Cockerels First To French Grand Final
Sunday, May 06 2018 @ 01:18 pm ACST
Contributed by: Wesley Hull
Views: 941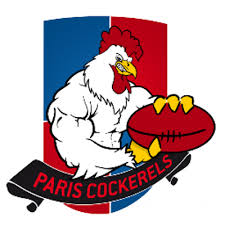 The first of the CNFA semi-finals was played yesterday in Paris, with the two Paris Cocks teams – the Cockerels and Cockatoos – clashing for the right to go to the grand final in coming weeks. The result saw the Cockerels prove too strong for their sister club, ultimately taking the match by 33 points.
A tight first quarter saw the Cockerels with a narrow 2-point lead. The second quarter belonged to the Cockatoos as they restricted the Cockerels scoring whilst hitting the scoreboard frequently themselves. However, after half time, the Cockerels just shut down the Cockatoos scoring options as they continued to attack without mercy, eventually running away to a comfortable winning margin.
The Cockerels will now wait patiently to sees which team will meet them for the 2017/18 season premiership.
Next weekend, attention turns to Toulouse as the Hawks host the Cergy-Pontoise Coyotes in the second of the semi-finals. Both teams have been impressive again this season and it is sure to be a huge battle. The Hawks would have to be favourites as the game is on home turf, and they will be motivated by the chance to go from wooden spoon to premier within one season. The Coyotes will see things differently as they aim to reach the grand final and chase their maiden premiership.
The grand final will also be played in Toulouse on May 26th.