Round Of Contrasts Opens AFLCNE Season
Tuesday, May 01 2018 @ 09:08 pm ACST
Contributed by: Wesley Hull
Views: 1,627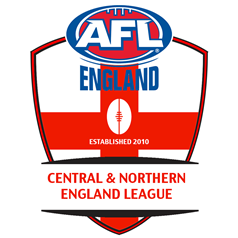 On the one hand, the Wolverhampton Wolverines gave the Merseyside Saints a fearful mauling in their opening round clash. On the other, the Nottingham Scorpions played out a tough, tight slog against the Huddersfield Rams to get over the finish line. The contrasting results, however, mark the beginnings of some stories for each of the teams after just one round, hosted by the Huddersfield Rams.
Just what the Wolverines take from their 204-point victory over the Saints is problematic. Certainly, they won and won extremely well, but whether such a lopsided match prepares them for tougher upcoming assignments is yet to be determined. Players gained some goal kicking practice, the team put their training to the best possible use and played themselves into form and their percentage is off to a flyer. But, the question will stand as to whether or not their form against the Saints will be good enough for the Mozzies or Scorpions…or Rams, for that matter.
If the Saints can take anything out of such a hiding it is that they now sit at Ground Zero. From here, everything has to be up. Smart teams learn from defeat and like bower birds they gather bits and pieces of valuable learning to be applied later. The Merseyside Saints will find the loss tough, and remaining clashes daunting, but they are also fortunate to have experienced such a football lesson first hand. Now it is time to apply their learning.
The Rams gained much from their honest 15-point loss to the Scorpions. In a hard fought match they proved that the gap between themselves and last year's grand finalists is narrow. Their own form will have sent a message to all other teams – do not take the Rams lightly. Across ten rounds with four opponents every advantage is worth gold. They may not have beaten the Scorpions but they know they can and will await their next chance.
For the part, the Scorpions did win a tough contest and gave themselves a great start to the season. They were challenged by the Rams and rose to that challenge. That is valuable as they look to turn around their fortunes after being bridesmaids to the Mozzies two years running. This is where the Scorpions' win might just be of greater value that that of the Wolverines in toughening up the team for future battles.
The Manchester Mozzies had a win of sorts also. They were able to be on the sidelines and watch all four of their 2018 opponents – assess, analyse and prepare – and be ready for challenges ahead.
Scores:
Wolverhampton Wolverines 235 d Merseyside Saints 31
Nottingham Scorpions 90 d Huddersfield Rams 75
Next Round: (Nottingham)
Nottingham Scorpions v Manchester Mozzies
Huddersfield Rams v Merseyside Saints
Wolverhampton Wolverines - Bye