Attention Travellers: Drop In, Say G'day, Have A Kick
Sunday, April 29 2018 @ 04:35 pm ACST
Contributed by: Wesley Hull
Views: 1,417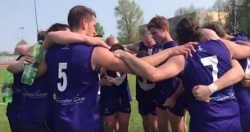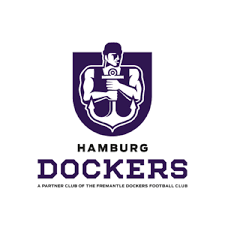 (Picture: Kenny Darcy surrounded by his new Hamburg Dockers team mates)
The great dream. Travel around the world. Maybe settle in a location for a period of time, visa permitting, and become a "local" for a while. Become part of the fabric of community, and perhaps join a local sports club whilst there – provided the body and mind can still cope. Ensure that your registration is within the league's rules and a new horizon may open up in front of you.
Enter Kenny Darcy. Once a gangling redhead (actually, he still is) with precious talent as a key position player, Kenny cut his teeth with local Cairns club, Pyramid Power. After going through the motions of junior footy, changing clubs, injuring knees, adapting to life after school and general getting a handle on adult life, Kenny eventually set off on the great adventure with his partner – Europe.
Through a combination of chances encounters and words in the right places, Kenny lobbed on the doorstep of the Hamburg Dockers in the AFLG (German footy). After going through the requisite registrations, Kenny was free to play…and play he did.
According to Fabian Cordts from the Hamburg Dockers, Kenny did have a grand day out in his first outing with a new club in a country he was still getting his head around. Kenny booted seven of the team's sixteen goals against the Dresden Wolves in their opening round victory.
"Yeah he did have an awesome debut kicking something like seven goals in the game against Dresden - he moved to Hamburg with his missus and came down to the footy through Brett Kennerley who we got to know with the German National Team when we used the North Sunshine Facilities at the International Cup [in Melbourne, 2017]."
For Kenny himself, the world is still a blur. A brief chat with him found that, "I never trained in the snow till I got here. [It has] been a struggle but all worth it…and I got selected to play in France for an Australian [team] for remembrance of our Australian soldiers."
For the lad who grew up in Gordonvale, 25 kilometres south of Cairns in Far North Queensland, The Hamburg Dockers are a million miles from his days at Gordonvale High School. However, he took the gamble and it has paid off.
He is far from the first Aussie to link with clubs in Europe, or anywhere else around the world. He won't be the last. However, for the time being he is a poster boy for the dream that some other prospective travellers may have. Travel the world, say g'day and stop to have a kick with us.
He has done that and in the process made his family and friends proud, his former coaches at Pyramid Power proud, his Gordonvale community proud. Better than that, once his story is out there, other people might believe that they can follow in his footsteps.
I remember taking training sessions with Kenny back in his Pyramid Power days. It is hard to believe that now he has kicked seven goals…in Germany…against Dresden…for Hamburg…training in snow…half a world away.
I wonder how many people want to book their tickets to Europe now?