Western Australia Remain Kickstart Champions 2018
Friday, April 27 2018 @ 09:17 am ACST
Contributed by: Wesley Hull
Views: 2,369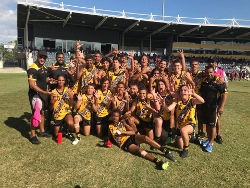 The 2018 AFL National Diversity Championships wrapped up last week in Blacktown, Sydney, with Western Australia and Victoria taking home the silverware. The U15 Kickstart indigenous team from Western Australia won their eighth consecutive title to remain the only state team to have ever won the competition since its inception. Victoria held on in a dramatic All-Nations final for multicultural teams.
The Kickstart Championships came into being back in 2011 as an elite pathway for under 15 indigenous players from across Australia. With exposure to elite coaching, support and facilities, the competition augmented the national Under 16 championships. Western Australia has been the dominant force since the inception of the carnival in 2011, and last week's result continued a proud tradition.
The All-Nations competition is an opportunity for players from diverse multicultural backgrounds to bring their talents to a state level and after humble beginnings as a modified game for players, it is now a fully-fledged competition in its own right.
Few teams have held a candle to the mighty Western Australia team at previous carnivals, but this year the South Australians came as close as any team to upsetting the apple cart. After a tight match, the boys from the west held on for a two-goal victory. The South Australians have made no secret of their desire to challenge as the premier indigenous state at this age level, and they went very close. As has been the case in the past, however, Western Australia has always found that extra bit of class or inspirational act to hold on when things get tight and that was again the case at Blacktown.
In the All-Nations final, Victoria claimed the title in extraordinary circumstances. Tasmania had held the lead for much of the match before Victoria grabbed two late goals to take the lead. Almost as the siren rang out, Victorian players cheered and embraced victory before realising that a free kick and 50 metre penalty had been paid to Tasmania. The Tassie players, aware that only seconds remained, played on to advantage and goal to steal the match. Or so they thought, as they then celebrated wildly. However, the umpires had not called advantage and rescinded the goal, forcing the original kick to be replayed from inside the centre square. The replayed kick failed to make the distance after the siren and the Victorians again celebrated victory.
Semi Final Scores: (Kickstart)
Western Australia 61 d Northern Territory 1
South Australia 29 d Tasmania 22
Semi Final Scores: (All Nations)
Tasmania 34 d South Australia 13
Victoria 65 d Western Australia 16
Grand Final: (Kickstart)
Western Australia 38 d South Australia 26
Grand Final: (All Nations)
Victoria 28 d Tasmania 27
Picture: The 2018 Flying Boomerangs team selected after the tournament (Courtesy AFL Diversity)