ANZAC Cup Victories To Australian Teams
Thursday, April 26 2018 @ 02:38 pm ACST
Contributed by: Wesley Hull
Views: 869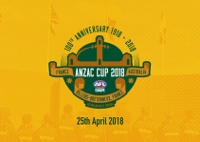 Australian teams took the victory honours in both the men's and women's matches on ANZAC Day at Villers-Bretonneux in the 10th incarnation of ANZAC Cup matches. AFL Europe's Facebook page contains many pictures from the day s well as the following brief overview.
"Things started bright and early this morning for our Australian Spirit and French National sides with players attending the Villers-Bretonneux Dawn Service along with thousands of others to pay their respects on the 100th anniversary of the 2nd Battle of Villers-Bretonneux."
"Following the service the teams completed the traditional march through the town before arriving back at Stadium Timmerman to begin the 10th Annual Anzac Cup matches."
"Both the men's and women's matches were hard fought from the first bounce but eventually saw the Australian Spirit sides pull away to take home both trophies. Thanks again to O'Neills Sportswear for providing the incredible matching team kits for the Australian and French sides."
In the women's match, the Australian team got the jump in the opening quarter to lead by 14 points, and extended that lead to 25 points by the main break. They continued their dominance in the second half before running out decisive 53-point victors.
Quarter Time: Australia 20 France 6
Half Time: Australia 39 France 14
Three-Quarter Time: Australia 61 France 20
Final Score: Australia 74 defeated France 21
The men's clash was no tougher than the women's, but the contest was certainly tighter. Australia held a narrow three-point lead by the first break. They had skipped out to a 13-point lead by half time and withstood a tough fightback from the French in the third quarter to be two goals ahead at the final change. The last quarter saw the Australians do enough to gain more scoring shots and extend the final margin to a 17-point victory.
Quarter Time: Australia 22 France 19
Half Time: Australia 48 France 35
Three-Quarter Time: Australia 67 France 55
Final Score: Australia 84 defeated France 67
Photos and Facebook text: AFL Europe