AFL Europe Champions League 2018 Preview
Friday, April 06 2018 @ 02:16 am ACST
Contributed by: Wesley Hull
Views: 1,333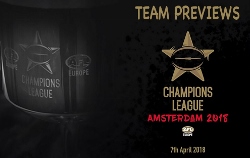 Riley Brettell from AFL Europe has put together the following preview of the upcoming tournament in Amsterdam. The original story can be found on the AFL Europe website at: http://www.afleurope.org/champions-league-2018-tournament-preview/  
The best 24 Australian Football teams in Europe are set to march on Amsterdam this week ahead of the AFL Europe's 2018 Champions League tournament, which will see close to 400 players represent club sides from 14 different nations to vie for European supremacy.
The 9-a-side event will be held on Saturday, April 7th at the Sportpark de Eendracht, with 54 matches across the day to decide the champions across both men's and women's divisions and making for one of Australian Footballs premier international spectacles.
Games will be live streamed online via BarTV along with rolling coverage across all AFL Europe social media channels throughout the day, with AFL Europe General Manager Ryan Davey expecting the day to be a huge success. 
"Champions League is one of the real marquee events for Australian Football throughout Europe and there has been a lot of work go in this year, not just from AFL Europe but from all the competing clubs and the players who have shown a real eagerness to get to Amsterdam in the best shape possible to make 2018 the best Champions League we have seen," Davey said.
"It's a very rewarding feeling to see so many people with completely varying backgrounds and stories, in both footy and life, coming together in the name of Australian Football… There's probably not many people in Australia that would recognise how strong the game is in Europe and what it means to the people who play it." 
Of course, hosting 54 games of football on one day at just one venue comes with its logistical challenges, with AFL Europe contending with the task of juggling the same challenges that come with most single or multi-day tournaments in regards to breaks between matches, time off before finals and giving all clubs a chance on centre stage, as Davey explained. 
"Similar to other AFL Europe tournaments, the fixture was created via a ranked draw based off results from the past three years of competition, with teams drawn into four groups across the men's division and two in the women's, and the fixture took shape from there, although creating a fixture that all 24 clubs are happy with is never easy"
"For the integrity of the tournament, it was important to get things like rest and recovery time, total playing time, start and finish times all as even as humanly possible throughout the day. Plus  we were also keen to provide as many teams as possible with the opportunity to play on the main stadium given the huge efforts they have made to get to Amsterdam."
The West London Wildcats return in 2018 to defend their crown as champions of Europe, with President Chad Sellenger, excited by the prospect of the side holding onto the title. 
"Coming over to Amsterdam is a big highlight for our players each year, it's a chance to enjoy a really great city and play against some really tough competition from around Europe," Sellenger said.
"Being in London there is always a high turnover over players coming and going so we have lost a fair amount but also gained some really important players that will drive our team forward in 2018."
"It was a tough group stage last year but we managed to get our way into the final coming up a resilient and disciplined Amsterdam Devils side, and we managed to come away with a hard-fought win… We are hoping – like everyone – to come away as Champions in 2018 once again." 
As the Wildcats look to see off a competitive men's field once again, the newly formed Hamburg Dockers women's side will be flying the flag for Germany in the clubs inaugural competitive tournament. 
Team Manager Lisa Wilson says that development of female football in Germany will be of greater priority during the tournament than wins and losses.
"A campaign has been created to launch women's football in Germany with the Champions League competition being a focal point for growth with the Hamburg Dockers being granted a spot," she said. 
"Our preparations have been solely based around promotion of the sport and the building of the team as this will be the first ever German women's Australian Football team to play in AFL Europe history… Our aim will be to promote the name of Germany Women's Australian Football, inspire other German girls and girls in Germany to try the game and also to give game experience to the girls who have been training with the men but haven't had the opportunity to play a game." 
Coverage of Champions League 2018 will kick-off at 9:30 am on BarTV, and you can stay across all AFL Europe social media channels for additional updates throughout the event.
Click for 2018 Team Previews
PART ONE – Wandsworth Demons (Women), Bordeaux Bombers, Zagreb Dockers, Berlin Crocodiles, Leeside Lions - http://www.afleurope.org/2018-champions-league-team-previews-part-one/
PART TWO – Hamburg Dockers, Odense Lionesses, West London Wildcats, ALFA Lyons, Sesvete Double Blues - http://www.afleurope.org/2018-champions-league-team-previews-part-two/
PART THREE – Port Malmo Lynx, Nottingham Scorpions, Greater Glasgow Giants, Styrian DownUnderDogs - http://www.afleurope.org/2018-champions-league-team-previews-part-three/
PART FOUR – Oslo Crows, Manchester Mosquitoes, Winterthur Lions, Wandsworth Demons (Men) - http://www.afleurope.org/2018-champions-league-team-previews-part-four/
STILL TO COME – West Clare Waves, Amsterdam Devils, North West Eagles, Bristol Dockers, Copenhagen Barracudas, Stockholm Dynamite