Kiwi Roper joins Darebin Falcons VFLW coaching panel
Tuesday, April 03 2018 @ 02:17 pm ACST
Contributed by: Tash Gunawardana
Views: 2,700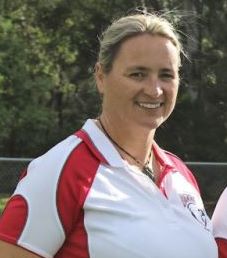 In another massive boost to women's football nationally Lisa Roper joins the Darebin Falcons VFL Women's coaching panel. 
Lisa Roper, is a 30 year coaching veteran with 10 years of Australian football experience and 16 years of playing Australian football. 
 In January she officially became the new assistant coach at Darebin. 
Lisa saw the coaching position advertised and knew she had something to offer in her unique background so she applied for the position, deciding it was a great opportunity to further her coaching career. Before long, Lisa found out she was the assistant coach from head coach Jane Lange in November. There were only a few insiders who knew before the announcement. 
Lisa left Sydney where she had coached and played football for ten years to join an all-female coaching team at Darebin in Melbourne's inner north. This coaching team includes head coach Jane Lange and assistants Melbourne AFLW player Mel Hickey and Julia Chiera. When Lisa was an assistant coach in Sydney last year she was part of a different coaching make up, with "one other assistant and a head coach".
Lisa is thrilled to be part of a coaching team with extensive expertise. "I can't wait for the season to begin and really get stuck in working with this panel."
She said she has mostly learnt from Julia Chiera since she has been at Darebin, due largely, to Mel and Jane's commitments with Melbourne's AFLW season. "I make use of her experience as a player from Darebin to speed me up with players and club history as we go along."
Lisa will be the forwards coach for Darebin and will need to learn the team's match plans, because, inconviently,  the other coaches were all past Darebin players so they know "the structures and set up very well".
Lisa's excited to be at a VFLW club, which is "providing a complete football pathway from Auskick all the way to VFLW, but they are also providing development opportunities for women in key coaching and off-field roles." She is also thrilled to be part of an all female coaching panel. This is huge in modern sport where females are becoming equals to men.
Darebin fans reacted well to the news their team will be coached by an all female coaching staff. On Darebin's Facebook page, Helen Riseborough commented with "Darebin Falcons have been leaders in this space for years! Go Falcons!" Ann Rulton another fan wrote, "great group of leaders go out and show them how it's done." The reigning VFLW premiers are hoping that this women's coaching dream team will help them to succeed and stay at the top of the tree.
There has been a rise in females becoming coaches in modern sports, however females are still underrepresented as coaches. ABC news writer, Tracey Holmes wrote an article in 2014 on how women are frowned upon when they either play, coach or commentate in the sporting industry. Many in the sports industry should follow "St Kilda, the San Antonio Spurs, Clermont Football Club and Andy Murray have shown there doesn't need to be a balancing of the ledger through tokenism and positive action campaigns," she said. This has improved in 2018, but "sport is still most often framed as a male domain."
Despite this, Lisa will be the fresh face in the coaching staff. She hopes her many years of coaching and playing experience in Rugby, Soccer, AFL, Gaelic, Softball and Cricket at representative level will be of an advantage.
"I have a pretty well rounded perspective on sport, and most likely that has helped me have a good take on reading play, and hopefully that comes across in my coaching."
The appointment of Lisa is yet another positive step for women's football nationally. Not only does she possess the qualities required to further grow the game, but her appointment also continues the positive trend of selecting the right people for the right tasks, and Lisa Roper is certainly that.