Are We Breaking Our Kids?
Monday, April 02 2018 @ 09:17 pm ACST
Contributed by: Wesley Hull
Views: 1,582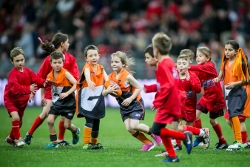 As another football season commences in most Australian Rules football playing locations, it is a time to ponder one of the greatest risks to the game. The future of the game at grass roots level. The following article by J.J. Adams in the Vancouver newspaper and website, The Province, looks at the alarming drop in kids remaining in sports. His template is Hockey in Canada, but the messages are clearly universal, and will impact on Australian Rules football nationally and internationally unless we can find ways to arrest these trends. 
Fear, greed, broken dreams: How early sports specialization is eroding youth sports 
By J.J. Adams (The Province) http://theprovince.com/
Kyle Turris is an NHLer because of his dog. Well, maybe not exactly, but while growing up his golden retriever deserves at least some of the credit for turning Turris into a 12-year NHL veteran. His ball-obsessed dog would chase a young Turris around their Burnaby backyard, the future hockey pro carrying a ball in his lacrosse stick as his hyperactive blur of fur tried to snag the hard rubber prize.
Call it skills training.  
"It helped in ways, like rolling off checks, and just being smart with how you protect the ball," Turris said to Postmedia last week.
"Just the athleticism that you can grow up with from the fun stuff like that from being outside. Playing games makes things a lot more fun."
Turris played all the sports growing up: Lacrosse, hockey, tennis and golf, to name a few. It helped him establish a solid athletic foundation, amplifying the genetics given to him by his lacrosse legend father Bruce and, most important, giving him enough enjoyment to stick with sports. 
These days, alas, the fun in youth sports is rapidly fading, the dreams of children replaced by the ambitions of adults.
As the system has become increasingly more "adultified," there has been an atrophy of equal value in the numbers of children playing sports. A U.S. poll showed a 70 per cent attrition rate of children who quit sports for life by the age of 13, most of whom cited a lack of fun as their reason.
Associations in different sports across the country are bleeding participation numbers, like B.C. Soccer, which said its enrolment fell seven per cent from last year. That mirrored a recent study by the Aspen Institute, which recorded a 23.5-per-cent drop in U.S. players ages 6-12 over a five-year period. 
The trend towards early single-sports specialization — defined as nine months or more of a single sport, to the exclusion of others — has been fingered as the main cause. While other activities, like video games or the rise of alternative, non-traditional sports, have contributed to the bleeding, specialization is the cause of most of it, from overuse injuries, emotional and psychological damage, to straight burnout. 
To continue reading this article, click on the following link to the full article in The Province's website: http://theprovince.com/news/local-news/fear-greed-broken-dreams-how-early-sports-specialization-is-eroding-youth-sports/wcm/e0cd4110-9764-4e7f-b98f-46f31a8ee9ff
As a coach of over 400 games of junior and senior football and having played junior football from ten years of age, this article resonates very clearly with me – I have seen these trends, and I will admit that at times have been guilt of some. I do believe it is incumbent on all coaches, officials and parents of kids- whether playing Australia Football or any sport- to consider the content of the article and begin the process of change. 
We don't see the impacts at the national level, but every time we see a club fold, or become low in numbers, it is a sign that the health of the club's juniors be looked at. They are the future of all clubs in all sports. Even clubs without a junior base to draw on still need to foster an environment where young people can either flourish in the game or at least consider giving the game a go. 
Photo Credit: AFL NSW/ACT