Winterthur Lions To Make Switzerland Proud
Saturday, March 31 2018 @ 11:06 pm ACDT
Contributed by: Wesley Hull
Views: 1,672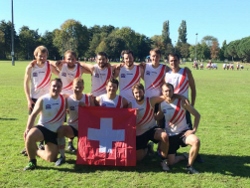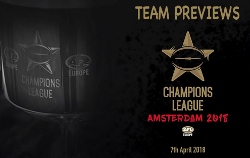 It will be a huge job but one of the newest Australian Football teams in Europe, the Winterthur Lions, will be doing their nation proud next weekend at the AFL Europe Champions League tournament in Amsterdam. Having received a "wildcard" entry into the tournament as the only club in Switzerland, the Lions have nothing to lose and all to gain by the experience.
A product of 2018, the Winterthur Lions Facebook page tells of their beginnings. "On Friday, 23rd February 14 pioneers and all-round legends gathered to found the only Aussie Rules football club in Switzerland. Thank you all for coming. We're very excited for the year ahead! New players of any experience level are welcome any time."
 Winterthur is a city in the north of Switzerland, around 30 kilometres to the north-east of Zurich near the border with Germany. After having had a team based in Lugarno back in 2010 to compete in the AFL Italia competition and form the backbone of the country's national team at the 2010 Euro Cup, and a brief emergence of the Zurich Steinbocks, there have been other small forays. However, Winterthur Lions now have the chance to build something big on the back of the recent appearance at last year's Euro Cup in Bordeaux with the Swiss Mountain Cocks – the first Swiss team since 2010 at the event.
AFL Europe's recent article examining the teams travelling to Amsterdam gives greater insight into the team's involvement next week and their journey. 
Following is a part of the AFL Europe website's article (see link) which looks specifically at the Winterthur Lions. 
AFL Europe 2018 Champions League Team Previews – Part 4 http://www.afleurope.org/2018-champions-league-team-previews-part-four/ 
WINTERTHUR LIONS - Stefan Burgener – President of Winterthur and AFL Switzerland
Tell us a bit about your pathway to qualifying for the 2018 Champions League with a quick recap of your 2017 season.
We received a wildcard qualification due to being the only team in Switzerland. Opposition teams are welcome to join!
What has your preparation for this year's tournament been like?
We started pre-season training at the beginning of March with one session every Sunday. We are seeing a lot of improvement in skills and team play. Our biggest recruit would have to be Johannes Orlowski from the Rheinland Lions, a ruck/forward who brings a lot of experience, and currently plays for the German National Team.
What does your side want to achieve coming to Amsterdam in 2018?
We are in it for the experience and overall development of our game, but we also want to get at least one win on the board!
Describe some players in your team that fans should keep an eye on at Champions League 2018.
As mentioned above, Johannes Orlowski (no. 15) is one to watch, along with lars Mathis (no. 5), who is a fast-paced midfielder who has taken on the new game seamlessly. Matt Burgener (no. 3) is another to keep an eye on as a dangerous small forward.
It proves to be an exciting time for the Winterthur Lions and footy in Switzerland in general. Just getting on the field will be step one, and the Lions seem pretty keen on taking many more steps after that.