Anatomy Of A Rebuild – Cairns City Lions
Wednesday, March 21 2018 @ 02:53 pm ACDT
Contributed by: Wesley Hull
Views: 3,277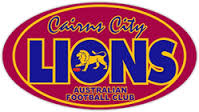 Standing in the eastern goal square at the Holloway's Beach Sporting Complex, located on the northern beaches of Cairns, former Melbourne Demons' champion Aaron Davey simply points to the other end of the field and says, "look at that!" He is referring to a football field chock full of kids of all ages – girls and boys – kicking footballs, laughing, listening to coaches, showing off to their team mates and generally having a blast.
It showed all the health and vitality of a strong club going places – part of the vision that new senior coach Davey has for his new team. "That's the future" he adds. He is right. Davey knows only too well that for the Cairns City Lions to rise from the depths of a forgettable 2017 and sustain strength and success into the future, the club has to now foster the young kids who will take over when Davey and others have moved on.
But, whilst Aaron Davey is at the club he has the chance to rebuild tha club, a culture and a future. Senior training was cancelled that night. Instead, all of the club's senior players were told to be at junior training to work with the kids. Nothing is lost for the senior team missing a training session. Much is gained when the kids at the club are coached by their club heroes. That is unity, and Davey is building a club around it. This is a part of the anatomy of a rebuild at the Cairns City Lions.
Davey, a veteran of 178 games with AFL club, the Melbourne Demons (where he also kicked 174 goals, was an AFL Rising Star nominee in 2004 and played our times for Australia in International Rules matches), brings an impressive resume to a club that was about to be put on life support. A winner of the Demons' best & fairest "Bluey" Truscott Medal in 2009 and a three-time representative in the Indigenous All-Stars teams, Davey has since honed his coaching and administrative skills working with young indigenous talent for AFL Victoria with their Kickstart teams. He has spread his other time playing and coaching in Melbourne suburban football as well as back home for his Palmerston Magpies in Darwin. He also works now for AFL Cairns., especially in the development of junior indigenous footballers.
In Cairns, the 2017 season for the Cairns City Lions is well known and often talked about. The nadir was probably a match against the South Cairns Cutters where the club was hammered by 290 points. (See
48.17 (305) to 2.3 (15) – Ouch!
) That day could have broken teams, yet, almost oddly, it became a unifying experience (I played for the team that day and never once felt a sign of a broken team or club whilst on the field). Instead, it has become Ground Zero for a club rebuild, with Davey leading the charge.
After spending time watching Davey taking his junior boys through some drills, there was time to interview club president, Robbie Taranto, about the future.
"The club had to make some big decisions over the off-season. First thing was getting a good coach that would attract players, then things like looking after our sponsors, players and supporters better. But the big one was to get all the little things around the club right, creating a better atmosphere and culture."
"Sustainable success is the key to our future, and our juniors are the future, so by having this experience around them over the next three years we are hoping to get up to 15 players in the 15-18 year old bracket with 50+ games under their belts. We are looking to improve each year and turning a 290-point loss around won't happen overnight. We are looking forward to 2019 as it is or 50th year and recruiting has already started. As for a flag, we have a long way to go but anything can happen."
"In two years I'd like to be able to look back and be proud of where we have come from - hopefully playing finals. All the little things around the club are running smoothly. We have moved on from 2017 but all the people involved in saving the club will not be forgotten along with the support of the AFL Cairns community."
When Aaron Davey finished his chat, his final words were, "it's [the amount of people on the field] a good start, but there's more to do." He is right, but the experience he has brought - tactics, philosophies, beliefs, skills - from his time as a player at the highest level and as a player and coach at state and club levels will go a long way to changing this club now and forever. It will be exciting to see how the club embraces change and where they will be at the end of this season – and beyond.
It is also going to be interesting to see if the success of the Cairns City Lions – like the Nunawading Lions in Victoria before them – becomes the blueprint on how to turn clubs around at times of great uncertainty.
Aaron Davey and the Cairns City Lions have a massive challenge ahead of them. However, seeing a playing field full of kids having a great time makes you believe that they will turn their fortunes around with this rebuild – they will succeed.
Football will be all the better for it.