The Fun Of 'Footy' Attracts Kids to North Delta
Tuesday, March 20 2018 @ 08:45 pm ACDT
Contributed by: Wesley Hull
Views: 1,593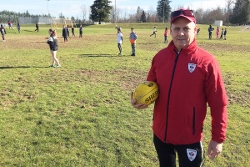 Journalist Tom Zillich from the Surrey Now – Leader newspaper in Vancouver, British Columbia has written a wonderful little story about the work of Mike McFarlane and his great team at the North Delta juniors in Canada. His achievements to grow junior footy in a part of the world where the game is a long way from the most popular is nothing short of amazing. 
Mike McFarlane would love to play the game known as "footy," but he says he's "way too old. 
"Head tells me I can, body says no," says the man who helps run the North Delta Junior Australian Football League, or NDJAFL.
Instead, McFarlane is keen to get kids sign up to play the game, which has been played in Canada since 1989 and in B.C. since 2001. The NDJAFL was formed in 2003 and has since grown from 28 young players to approximately 140.
From March to June, league officials run practices and games at Gray Elementary, with kids from Delta, Surrey and other areas of the Lower Mainland welcome to get involved. 
"This is what we call one of our open practices to start the season, where we invite kids to come down, try to play a little Aussie football and see what they think, get them signed up to join the league," McFarlane said during an hour-long morning session at the school last Saturday (March 17). 
"We're the only organized kids (footy) league in North America," he added. "There are other spots where they'll do a clinic, but this is the only place they'll play regular scheduled games." 
"Footy," also known as "Aussie rules," involves elements of volleyball, basketball, football, rugby, soccer and athletics, all resulting in a bit of "organized chaos," McFarlane explained with a smile. 
He said the NDJAFL has developed a league that allows children of any athletic ability to find a level of success. That means every child plays the entire game and plays all of the positions every game. Kids of the same skill set are matched against each other, McFarlane added. 
"Why I think it attracts the kids is, regardless if they're an athlete or not, they all start out on the same footing, because no-one has any real concept of this game," he noted. "So it brings the non-athlete (and) gives them a chance to succeed, because it's kind of a sport that if you can do little bits of different sports, you can bring it all together in this, and all of a sudden you can find some success." 
Starting in April, games will be played on Saturdays, and practices are held Wednesdays starting at 5:30 p.m. To fee to register is $100, with details posted at ndfooty.com. 
"This price includes a T-shirt and a pair of footy socks that the kids get to keep," McFarlane wrote in a recent letter to parents of kids at local schools. "Equipment costs are minimal, as all that is needed is a pair of soccer cleats and a mouth guard.… The travel is less than other sports as all practices and games take place at Grey Elementary in North Delta. At this time there are no away games." 
The league is open to boys and girls age nine to 17. 
"This is not the sport you may have seen on TV in the 70s or 80s," McFarlane explained in his letter. "Our league is based on a very successful program in Australia called Auskick. Our league for boys and girls stresses skill development, teamwork, sportsmanship and fun. The pressure that some other sports can sometimes bring onto our children is not a part of the NDJAFL." 
"We encourage parents and interested players to come down and see one of our practice sessions," McFarlane added. 
A related team, the all-girls West Coast Wildcats, practices Saturdays starting at noon, on the school's lower field, 10855 80th Ave., Delta. 
The original story can be found at: https://www.surreynowleader.com/sports/video-the-fun-of-footy-fun-attracts-kids-to-north-delta-field-from-march-to-june/ωklk