The History Of The ANZAC Cup
Sunday, March 18 2018 @ 09:34 am ACDT
Contributed by: Wesley Hull
Views: 932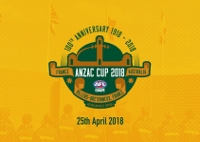 With the ANZAC Cup 2018 to be played on ANZAC Day, 25th April, AFL Europe has released an excellent article that gives that background to this solemn yet celebratory event, played each year in honour of those who fought to save Villers-Bretonneaux. To read the full article, follow the link at the end of this story. 
To commemorate the 100th anniversary of the Second Battle of Villers-Bretonneux, the men's and women's Australian Spirit sides will go head-to-head with the French national teams to contest the 10th annual ANZAC Cup, honouring those who fought to reclaim the town on the night of April 24th, 1918. 
Villers-Bretonneux had been a key post for the Allies prior to the Germans successfully breaking through defensive lines and taking the town on the 24th as part of their Spring Offensive. This was a considerable victory given the towns vantage point over the city of Amiens which was of significant tactical importance to both sides.
As such, the Australian lead counter-attack was an imperative move to be made and was quickly ordered to commence on the night of the 24th, with the 13th, 14th & 15th brigades waiting for the cover of darkness before launching their response at 10pm local time. Their efforts were successful and the town was handed back to the villagers on April 25th – exactly three years after the landing at Gallipoli – but tragically not before 2,473 Australian lives were lost. 
The match is now a focal point in the 'Australia Week' celebrations organised by local authorities that recognise this sacrifice made by the Australians who retook Villers-Bretonneux. 
Played since 2009, the 32 Australian men and women selected to represent their country in the ANZAC Cup are done so based on their own personal or family connection to the armed forces rather than their specific footballing experience or ability, placing extra importance on the already momentous honour of pulling on the green and gold. 
Players are hosted by adoring local families and spend time in the lead up to the game engaging with their opposition by running community footy clinics, sharing a dinner and guernsey presentation, taking part in a street parade and holding a combined training session, before attending the dawn service at the Australian National Memorial where the names of 10,733 Australian's who lost their lives on the Western Front are list 
To read the complete AFL Europe article, click on the following link: http://www.afleurope.org/history-of-the-anzac-cup/