Big Weekend For Parisian Birds
Sunday, March 11 2018 @ 10:30 am ACDT
Contributed by: Wesley Hull
Views: 1,178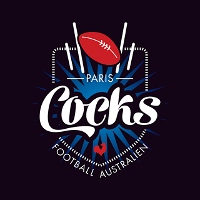 This weekend's CNFA Léo Lagrange round in France saw the Paris teams – the Cockerels and Cockatoos – hosting the Toulouse-based teams, the Hawks and Aviators. It was a highly successful weekend with both Paris teams winning, and in the process enhancing their finals prospects.
The Paris Cockerels handed the Toulouse Hawks their first defeat of the season. Both teams were locked on four wins apiece going into the match. The win for the Cockerels sees them outright competition leaders with two rounds remaining. In the other match, the Cockatoos leapt over the ALFA Lions and into fourth place after comfortably defeating the Aviators.
The Paris Cockerels didn't get away to the ideal start. The Hawks got off to a solid opening quarter, leading the Cockerels by 14-points. By half time, the Cockerels were back in the match with scores locked at 31-points apiece. After half-time, however, it was one-way traffic as the Cockerels shut down the Hawks attacking options and took control up forward to run away with a big 79-point win. The result is a significant pointer now to the premiership with the Cockerels having established a psychological edge over the Hawks.
The clash between the Cockatoos and the Aviators wasn't so close early and stayed that way. The Cockatoos jumped out to a five-goal lead by quarter time and led by eight goals at the main break. The second half played out the same way as the Cockatoos recorded an 85-point win. Not only did they go past the ALFA Lions on points to grab fourth place, their percentage boost will have significantly bridged the gap that the Lions had enjoyed.
Round 6 begins next weekend with matches in Perpignan and Paris. The Perpignan Tigers host the Paris Cockerels whilst the Cergy-Pontoise Coyotes will welcome the visiting Bordeaux Bombers. The round will be completed the following weekend with a double-header in Toulouse. The Aviators will meet the visiting ALFA Lions in a match that is vital for the Lions' finals chances. The match of the round will see the Toulouse Hawks desperate to get back on the winners list when they host the Cockatoos.
It is very possible that fourth place will come down to percentage with the Lions just ahead now of the Cockatoos. Both teams will be in Toulouse and by the end of Round 6 will know exactly what they need to achieve in the final round to make the finals. It is sure to be a fascinating finish to the home and away season over the final two rounds.