Kangaroos defend Bawbag Cup
Thursday, March 01 2018 @ 08:52 am ACDT
Contributed by: Troy Thompson
Views: 951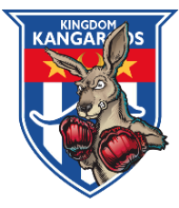 They say history is written by the victors. In this case the victors are the Kingdom Kangaroos and this version of their historic three-peat was submitted to us by Sandy Bell.
The Kingdom Kangaroos won the annual Preseason Bawbag Cup for the 3rd time in 3 years on Saturday 24th March. The annual warm up tournament competed by the Tyne Tee Tigers, West Lothian Eagles and Fife's own Kingdom Kangaroos.
The Kangaroos preparation was thrown into disarray when the entire midfield was a late withdrawal due to a road traffic accident on route to the game. This resulted in the Roos taking to the field in the first game against the Eagles with only 8 players (and no subs). Despite playing a man short the Roos experience and commitment at the ball kept the game close. The highlight was a spectacular contested Mark by veteran Player/Coach Wayne Sullivan. The Eagles utilising the strong breeze held onto a handy 3 goal lead at the half time that included a well crafted team goal by half forward Jason Forrest. Kangaroo Reinforcements arrived shortly after the restart allowing for a 9 vs 9 battle. The impact was swift with forward Mark Flanagan kicking 3 goals in a devastating 5 minute spell. The 1st game was closed out with make shift Ruckman Jamie Koo kicking a 60metre plus torpedo to seal a famous victory against the odds.
The 2nd game of the tournament was Tyne Tee Tigers vs West Lothian Eagles with the victor meeting the Kangaroos in the decider. In a pulsating contest the Eagles coaching staff came close to masterminding a win against the English opposition. The Tigers prevailed setting up the third Kangaroo Vs Tigers Bawbag Cup final in three years.
As expected the final was a committed affair with the Roo midfield constantly pumping the ball deep into the forward line. Despite having a limited bench to rotate players the Roos superior fitness and skill eventually carved out clear chances. The 2 goal lead at half time against the wind was game changing and allowed the Roos to control the contest to the end, eventually running out winners 40 points to 24. Man of the match for the Roos was Jack Chalmers whose tireless running and ability to read the play bodes well for the season. Special mention to Sandy Bell who was coaxed out of retirement for the cup and played every minute of the tournament.
The Kangaroos are currently recruiting players for the upcoming season. Training is free and the club have friendlies arranged in April and May. if you would like to experience this fun, inclusive dynamic sport, contact the Kangaroos via their Facebook page Kingdom Kangaroos arfc or contact Mark on 07504272269