Eagles Soar, Kangaroos Roar –Bawbag Cup
Sunday, February 25 2018 @ 01:27 pm ACDT
Contributed by: Wesley Hull
Views: 1,888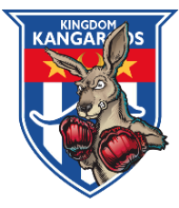 The colloquially, and probably somewhat inappropriately, named Bawbag Cup was played on the weekend at the Leith Academy in Edinburgh, Scotland. It was a great day for the Kingdom Kangaroos as they defended the title they won last year in a three-team round-robin competition. The competition was made all the more historic with the West Lothian Eagles taking the field as an official AFL Scotland/SARFL team. It was also the first game for the Tyne Tees Tigers as a new member of the SARFL competition in 2018.
The West Lothian Eagles hit the field first against the more experienced Kangaroos. The final deficit was a four goal loss, but they were not blown off the park. According to their Facebook page, the only things that let the Eagles down was the lack of experience and game knowledge – two areas which will improve almost automatically the more games they play. The club was delighted with the form of the "first gamers" that took the field.
In their second game against the Tyne Tees Tigers, the Eagles went down by just 15 points. They kept pressure on the Tigers from the outset and enjoyed kicking three goals themselves whilst keeping the Tigers to just five. The club has thrown down the gauntlet to the player to enjoy the experience and gather themselves for their biggest test yet, five likely games in the upcoming Haggis Cup on April 14th at the West of Scotland Rugby Club, Milngavie, Glasgow. The event is hosted by AFL Scotland.
The Kingdom Kangaroos were delighted to defend the title from 2017 and add more silverware to their shelves. Despite a traffic accident delaying some of their players from being on time for the first game, the Kangaroos were still too good for all teams, going on to win the final against the Tyne Tees Tigers. The final score saw the Kingdom Kangaroos 7 7 49 too good for the Tyne Tees Tigers 4 4 28.
The match also saw the first occasion where the Tyne Tees Tigers played in this, or any other, event as a part of the new AFL Scotland landscape – joining the SARFL for 2018 after having previously been a part of the AFLCNE competition. Whilst it would have been enjoyable for the Tigers to win the tournament, they would not be disappointed with their efforts in showing that they can travel and compete successfully on a Scottish stage.