Antony Blues Set To Grow In Paris
Sunday, February 18 2018 @ 01:39 pm ACDT
Contributed by: Wesley Hull
Views: 2,120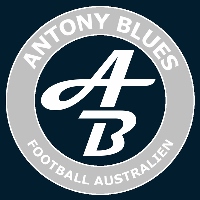 The French capital city of Paris is fast becoming a hotbed of Australian football. With the powerful Paris Cockerels having given rise to their sister club the Paris Cockatoos, and the Cergy-Pontoise Coyotes becoming a power in the north-east of greater Paris, Antony, a suburb south of Paris might yet become a fourth club in the city.
Steve Ryan coached the Paris Cockerels from 2014 to 2016 before joining the Texas-based Houston Lonestars club, contributing as a coach to a club regarded as one of the best organised in the United States. Having returned to live in the south of Paris with his wife, Steve is now a part of the group driving the Antony Blues. As Steve states, "I've been shaped by two great clubs in the Paris Cockerels and Houston Lonestars." Now he is busy using that experience, and that of the other people involved in the project, to build a new team.
Steve has been willing to give an insight into the progress so far. "The club has been created in January. We are still working on getting the affiliation with the Léo Lagrange association. This will get us the player insurance we need in order to secure a terrain [playing field and home venue]. This is where the battle lays, in muscling your way into one of the already crazily busy sporting facilities."
'From 2016-2017 we've seen a decline in players across the CNFA league from around 250 to 210 players. Much of that is to do with the closure of Strasburg Kangaroos and Montpellier Firesharks. The Paris Cocks have also not really kicked on greatly since 2016 [despite the split into two clubs]. They are equal leading with 44 members along with Bordeaux." This has meant that the growth of one club has not yet offset the losses through other clubs.
"I think the south of Paris is ripe for a footy team. There is a great sporting culture down here with a lot of involvement in rugby. We will target handball players too as these guys cross over pretty well to AFL. With regard to a fourth Paris side, this is where the Antony Blues project gets interesting as four teams is enough to start a decent metropolitan league. I think San Francisco and Los Angeles are great examples here [of what can be done to grow the strength of the game within one city]."
"For sure there is a risk of the whole project just dissipating. I think you have to be really clever about collaborating and communicating to different associations and potential markets. We will try to get leverage off this mind set. We were very lucky to have Andrew Unsworth on the board of the club. Andrew is current French national coach. We are still fleshing out the association formalities."
"Having a team ready for the 2018/2019 season is ambitious and probably not realistic. [We will know more] in May-July which will be the deciding months. We could elect to go [aim] for the season and risk pulling out at the start in September, or [more realistically and practically] just aim to play some metropolitan matches and perhaps a weekend tour somewhere in Europe."
"I will be trying to mix initiations at the Blues with non-contact mixed gender social games, not dissimilar to AFL 9's in Australia. The common misconception in France is that AFL is a blood sport. We have got to really work hard all over the league to educate the public differently as the contact side of the game is sensationalized."
Steve and his fellow Antony Blues crew have many challenges ahead of them. They have watched the rise and fall of other teams from Lille, Brittany, Pau, Nancy and others rise, fall or stall along the way, but they can also use this as motivation and an operational blueprint to avoid pitfalls and learn from others' experiences.
It will be very interesting watching how the Antony Blues develop from here as another exciting addition to the CNFA and footy in France.