Falcons' Finals Fling – AFL Middle East
Sunday, February 18 2018 @ 11:38 am ACDT
Contributed by: Wesley Hull
Views: 971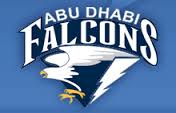 The Abu Dhabi Falcons cannot realistically reach the 2017/18 season finals. Unrealistically, however, it is a different story. If they were to toast the Dubai Dragons in the final round in the same manner they did the Dubai Dingoes last round and the Dingoes miraculously defeated the Multiplex Bulls, the Falcons could get there. But the chances are so small as to be immeasurable. However, the win was a huge reward for the Falcons.
After the double-header in Dubai, the Dragons further enhanced their flag favouritism again after downing the Multiplex Bulls and the Falcons put together a comprehensive thrashing of the Dingoes. With one round to go it appears that the Multiplex Bulls are safe in second place (apart from the aforementioned miracles) and will once again challenge the Dragons for the 2017/18 flag.
The Bulls must be tearing their collective hair out. Since their arrival in the league, they have proved to be the heir apparent to Dragons. Yet, repeatedly they fall short. This time it was by 18-points, making it yet another tight match, but still no cigars for the Bulls. If there is anything to hang a hat on for the Bulls it is the fact that they are not falling further behind the Dragons. Victory seem just around the corner, and their next meeting might be the day – grand final day.
However, the Dragons now hold such an air of inevitability about their clashes with the Bulls that the psychological gap is a bigger concern that the physical. The Bulls ARE as good as the Dragons in most areas, but somehow they have to play a game of the minds to better the Dragons.
The Falcons went on a scoring spree against the Dingoes to record a hue 117-point win. Spurred by an eight-goal effort from Zac Moon, and a decent supporting cast, the Falcons played possibly their most complete four quarters of the season. As pointed out already, it probably isn't enough to extend their season beyond their final round clash with the Dragons, but it is a pointer to where they can go next season. They are a chance next round to prove to everyone – especially the Dragons – that they could be a new contender in years to come.
The fact that they will host the Dragons in Abu Dhabi is a bonus, whilst in Dubai the Bulls will use their clash against the Dingoes as another chance to build for their premiership opportunity soon after.
Final Scores:
Dubai Dragons 17 9 11 d Multiplex Bulls 14 9 93
Abu Dhabi Falcons 24 9 153 d Entertainer Dubai Dingoes 5 6 36