Danish Clubs To Launch DAFLX Competition
Thursday, February 15 2018 @ 10:51 pm ACDT
Contributed by: Wesley Hull
Views: 1,817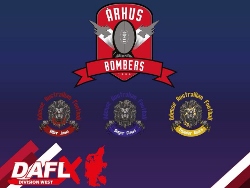 Hot on the heels of the AFL's latest pre-season showpiece – the AFLX – Denmark has already taken a lead and will have their own DAFLX competition. Founder of the Odense Lions, and more recently the drive to bring the Aarhus Bombers back to glory, Morten Merhøj, has been one of the forces behind a new dimension to footy in Denmark.
According to Morten, "to make sure the many members in Odense keep interested in the sport despite not being able to play in DAFL Premier League because we are too many (but not talented enough to have two competitive teams), I came up with FAFLX [the "F" being for Funen, the island Odense is located upon)."
"But then I started looking into other clubs to join and found people in Aarhus interested in actually getting their club [the Aarhus Bombers] back on track. Then I wrote to all the players I could find on the Footy Record site who had played for teams in the area and all of the sudden we had a board and a playing group of 7-10 players."
"The competition was then changed from FAFLX to DAFLX Division West."
It remains to be seen whether the competition takes off as planned, but the initial interest is strong and there are plenty of clubs across Denmark that could take the concept further. But the early hype is strong.
The Aarhus Bombers' Facebook page states, "DAFLX is here! To start the journey back to the top of Australian Football in Denmark. Aarhus Bombers will compete in the inaugural DAFLX Division West tournament, [new in 2018]. [As well as] the Bombers in this new competition, Odense will field three teams. All four teams will compete on weekdays through the season for the title of DAFLX Division West Champions."
With the exposure of the new format in Australia, with the debut of the national AFLX competition, eyes will be on Denmark to see how the format can blend with existing competitions across Europe, and perhaps the world.
Or more information on the growth of the Aarhus Bombers, an integral part of this new initiative, see our story about them at
Aarhus Bombers Resurrected In Denmark
.