Staunton, Duryea and Pearce a prelude to International Rules?
Saturday, February 03 2018 @ 12:48 pm ACDT
Contributed by: Troy Thompson
Views: 1,031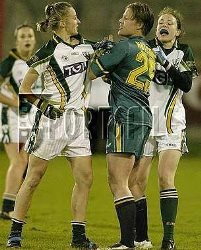 Cora Staunton and Laura Corrigan-Duryea will go head to head today and Irish eyes will be smiling. But Staunton will also renew acquaintances with Daisy Pearce.
Sure we are excited to see two Irish players line up in today's AFLW match. But still have a time to wait before we see women that have learned the Australian game in Ireland make it to this competition however. Today's meeting though could be some petrol added to the fire of local development in Ireland that is already on the up after winning this year's women's International Cup title.
Laura Corrigan-Duryea found the game in Australia, learnt it in suburban Melbourne and mastered the game at Diamond Creek before finally donning the number 11 for Melbourne in the AFLW's inaugural season. She backed up the AFLW season with a VFL season that saw her with a Grand Final runners-up medal around her neck and a championship medal for the International Cup (as co-captain of her nations footy team).
In the first match of her second AFLW season she will either line-up on or in proximity to Cora Staunton. A woman who is a legend of Ladies Gaelic Football and a household name in Ireland, recruited to try to boost the poorly performed forward line of the GWS Giants. Staunton's journey from the draft to playing Australian rules at the highest level in a number of months is remarkable. A fast running, goal scoring forward, she is a revered veteran of her game at home and the rawest rookie in the Australian game. This contest will not go un-noticed in Ireland and will be eagerly watched by women across Ireland and may just bring a boom in interest in playing the Australian game too.
While Laura Corrigan-Duryea has not played against Staunton before, one of her team mates has. Possibly the greatest female playing in Australian football going against possibly the greatest of Ladies Gaelic football. Daisy Pearce was part of the 2006 Australian team that played International Rules in Ireland, with Cora Staunton on the Irish team. Then both so raw, now both so experienced and with decorated careers under their belt. Let's hope we see them clash today.
And as suggested by our writer Tash Gunawardana earlier this year, let's hope we see them go head to head again representing their nations in a repise of the International Rules series for women too.