Crocodiles At Full Forward!
Friday, February 02 2018 @ 05:35 pm ACDT
Contributed by: Wesley Hull
Views: 1,226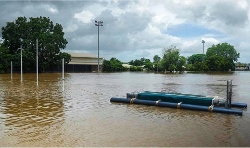 Matt Thompson from the www.afl.com.au website takes a brief look at a unique problem in Australia's "Top End". It is very wet up here ( I live in Cairns), and Darwin and the more northerly climes of the Northern Territory are having a bumper "wet season". Crocodiles enjoy the wet season, especially when their swollen river homes allow them to explore a little further…like the local footy ground. 
IMAGINE the prospect of a crocodile at full-forward.
Locals at the Daly River Football Club in the Northern Territory are preparing for that chance, with a croc net tied to the goalposts at their flooded oval. 
Located about 220km south-west of Darwin, the community of under 500 has taken extra precautions as the big wet strikes. 
 The top end has been inundated in recent days, with the river peaking at 14.8 metres on Thursday.
The water level isn't expected to begin dropping significantly until Monday at the earliest.
About 300 adults and 100 children from the region have been evacuated to the Darwin Showgrounds, more than two hours away by car.
AFL Northern Territory has been running clinics to keep the evacuees entertained, with players from the NT Thunder and AFLW helping lift morale. 
"We're already working with government to coordinate player appearances and clinics down at the showgrounds for the next few weeks while the flood waters subside," AFLNT chief executive Michael Solomon said.  
Solomon highlighted the importance of helping the bush community restore its oval as soon as possible, but it's likely to take several weeks. 
"Football's the heart and soul of every community in the Northern Territory," he said. 
"Certainly the intention is to get footy up and going as soon as we possibly can." 
Matt's original article can be found on the AFL's own website at: http://www.afl.com.au/news/2018-02-02/a-croc-at-fullforward-nt-locals-get-snappy
Picture Credit: AFLNT