Get to know Blues young gun Bridie Kennedy
Monday, January 29 2018 @ 10:35 am ACDT
Contributed by: Tash Gunawardana
Views: 1,217

Tash Gunawardana interviewed Carlton young gun Bridie Kennedy ahead of the Blues and Pies opening clash of the second AFLW season this Friday the 2nd of February. Good luck to Kennedy on her first season with the Navy Blues.
When did you start playing Australian Rules?
I started playing when I was 15. My best friend convinced me to start playing.
Image Left Source: vfl.com.au
Did you play any other sports growing up?
I feel like I played every sport growing up. Basketball, netball, cricket, gymnastics and even did some horse riding. I found my fit when I started playing football.
Which AFL team did you support as a kid?
Collingwood. All the girls in my family go for St Kilda and all the boys go for Collingwood. Me wanting to be one of the boys joined the Collingwood supporters.
What is it like to be a woman playing Australian Rules?
I feel a real strength playing AFLW and hope that this can prove to other women and girls that we are just like the boys.
Who has been the biggest mentor for you in your footy career so far?
I would say my parents and my grandpa. My parents were a bit worried when I started playing football but now they love it and, with my grandpa, they are my biggest fans and come to all my games to support me.
What is your favourite footy position to play in and why?
I love playing in a position that allows me to be able to run around. My running ability and my aerobic capacity is my main strength, so as a running forward, back or midfielder.
If you were not playing professional footy what would you be doing?
If I was not playing football professionally, I think I would still be playing basketball or another sport and trying to get to the highest, professional level of that sport.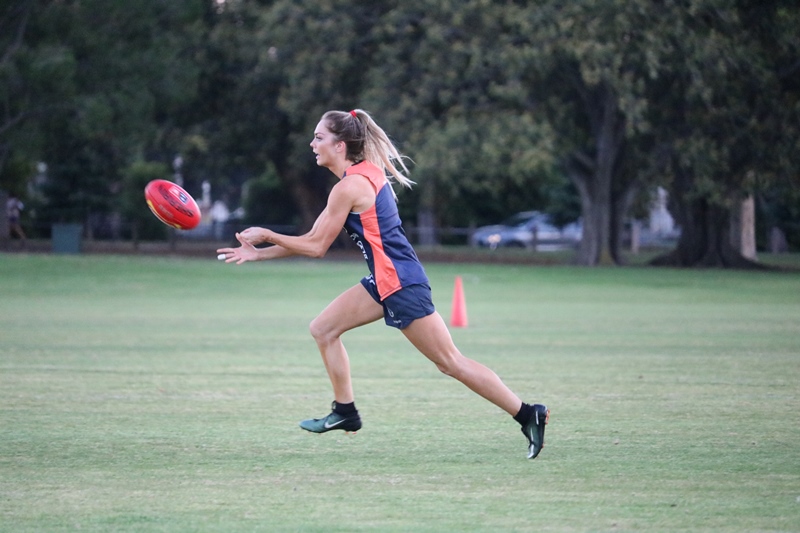 Image Source: Carlton Media
How did you feel when Carlton selected you at pick no.36?
I was so pleased and relieved when I got picked up by Carlton at no.36. It was such an emotional rollercoaster, and felt like my dream suddenly became a reality.
What do you feel you can bring to Carlton in your first season at the club?
I feel like I can bring my running power to the team at Carlton for my first season and hopefully can show this on the ground and help impact the game. I would also like to bring some of my leadership qualities into the team.
You were the Vice-Captain of the Dandenong Stingrays, so what leadership qualities do you feel you can bring to Carlton?
I would love to continue developing my leadership qualities at the club, it is an area I am really passionate about. This year my main focus is to lead by example and live the values that the team and myself have established. I would love to be known as a leader through my actions both on and off the field.
Which player past and/or present do you model your game on?
I did not really grow up watching much football so I did not really model my game on anyone in particular. However, I loved watching the first AFLW season and have tried to model my game to what I saw in that inaugural year.
How do you prepare for a footy match?
I have a really weird thing before I play football to help me prepare – I like to have fresh breath. So, I will mentally and physically prepare for the game by eating mints before running out on the field.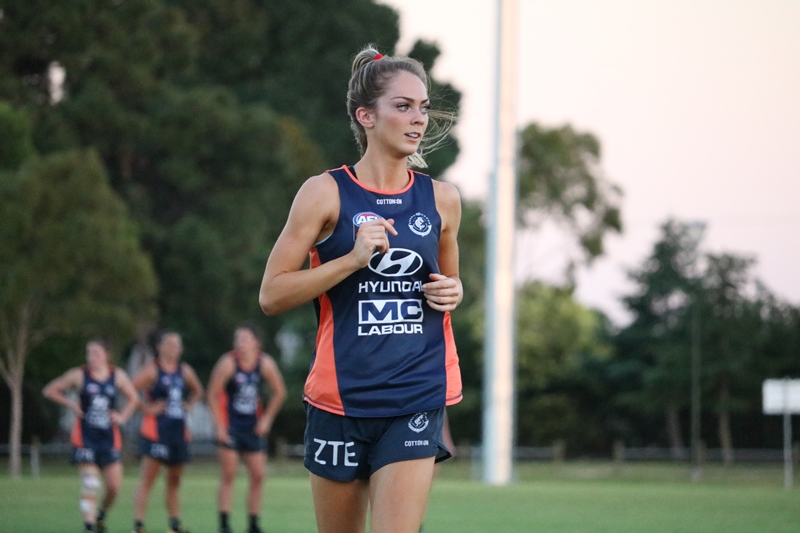 Image Source: Carlton Media
How do you recover after a footy match?
To help recover and reduce injury after a game I love going down to the beach and having an "ice bath" at the beach.
What are you most looking forward to in your first season at the Carlton Blues?
I am looking forward to the challenge and the step up from the other levels of football I have played, also the professionalism of the elite environment.