Get to know Western Bulldog's Lauren Spark
Friday, December 22 2017 @ 01:00 pm ACDT
Contributed by: Tash Gunawardana
Views: 1,947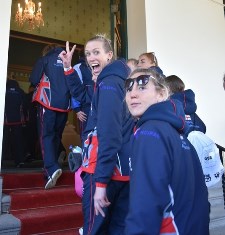 Tash Gunawardana interviewed Lauren Spark from the Western Bulldogs AFLW team. Spark plays ruck and key defender for the Western Bulldogs and she used to play for the Wimbledon Hawks in the AFL London competition and for Melbourne University in the VFL Women's competition.
What made you choose women's football over women's beach volleyball?
I loved beach volleyball and still do, but it's a tough sport to progress further in, with limited coaches and players available. I had always wanted to play football and wasn't until age of 27 I met a friend who was playing and went down to join her at Melbourne University Women's Football club.
Did you play any other sports growing up, other than beach volleyball and football?
Yes played all sorts, mainly tennis as a junior and then netball as a teen.
How old were you when you first started playing women's football?
27 years, (been playing for 5 years, with 2 years spent in London).
Picture (right) Courtesy Western Bulldogs Football Club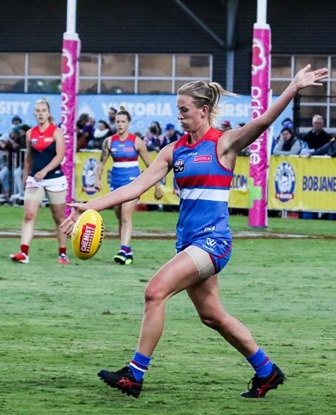 What is your biggest sporting accomplishment?
Drafted to AFL Women's Western Bulldogs
What did you enjoy most about playing for the Wimbledon Hawks in AFL London?
The social aspect was my favourite, I didn't know a single person when I first arrived and joining the Hawks allowed me to meet new people.
How long did you play football for the Wimbledon Hawks and how long have you played football for Melbourne University?
Played for Hawks 2015 and 2016 (2 Years)
Melbourne University 2012-2015 (3 years)
How did you feel when the Western Bulldogs drafted you in 2016 at pick no.76?
Over the moon! I was sitting up at 4am in my London flat watching the draft live and couldn't believe when my name was read out. Had to pack up London life and book a flight home the week later.
Which AFL player past and/or current do you model your game on?
I loved the way Glenn Archer (mad North Melbourne supporter growing up) went about his football.

What do you feel are your main strengths in football?
Using my height, strengths would be overhead and contested marking.
What areas in your football do you feel you need to improve in?
Working below my knees (ground balls) and becoming more aggressive during games.
What do you like doing other than playing football?
I love being outdoors, cute coffee shops (lots to find in Melbourne), nice food, travelling around the world, bit of scrapbooking sometimes.
Picture (left) Courtesy Western Bulldogs Football Club
What is your pre game ritual?
I like to get in early, and settle early. Hate feeling rushed. Like to mingle and have a chat to the girls. Always music playing and then get into pre game warm up, and always into the snacks before a match.
What is your go to meal after a football match?
Lucky we have very helpful nutritionists at the Bulldogs, and they feed us after a game, and by that stage I'm very hungry could eat anything.

What are you most looking forward to in your second AFLW season with the Dogs?
Building onto what we already begun to create in season one also a few new girls into the mix this season should also shake it up a little.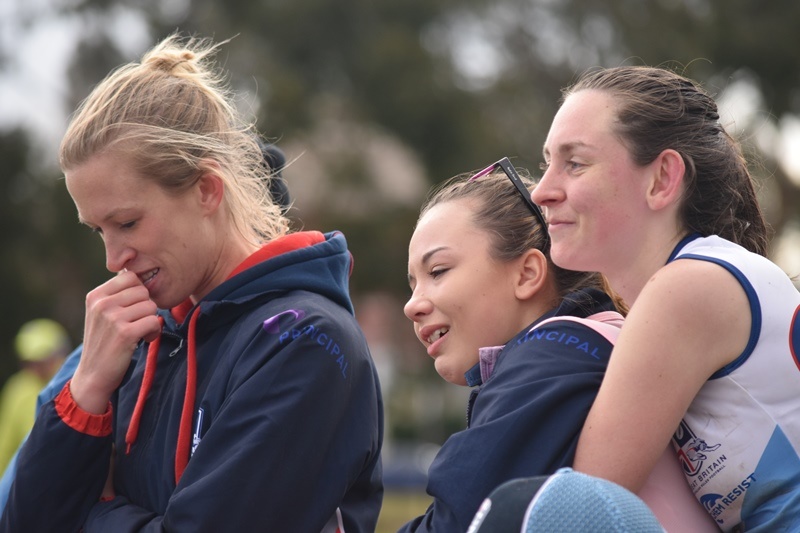 Picture Above and top from IC17 Where Spark was an assistant coach of the GB Swans.