Extraordinary "L.A Crocodiles" Concept Revealed - Herald Sun
Monday, December 18 2017 @ 08:11 pm ACDT
Contributed by: Wesley Hull
Views: 4,218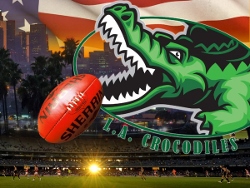 In the current Australian Rules football climate the idea of a national league team being located outside of Australia is still being viewed as untenable and unnecessary by many. So, imagine how far-fetched an idea it must have been to suggest the re-location of a VFL team to the United States back in the late 1980's.
To further highlight the extravagance of the idea, many international-based competitions were yet to be created and only a very embryonic network of Australian Rules football competitions existed outside of Australia. In fact, the Sydney Swan shad only just moved permanently to the harbour city in 1982 and the West Coast Eagles and Brisbane Bears were admitted to the VFL in 1987 – the competition was barely a national one much less ready to go overseas.
Yet, the following excerpt from Michael Warner's story in the Herald Sun newspaper sheds light on this idea – which almost ironically could be seen as a forerunner to expansion and development processes for the game in the decades following.
"A RADICAL plan to relocate a Melbourne club to Los Angeles in 1988 is detailed in documents uncovered by the Herald Sun. The LA Crocodiles would have played home matches at the Rosebowl in Pasadena or the Los Angeles Coliseum.
The audacious proposal had the backing of powerful football administrator Allen Aylett, who was consulting for the league on potential club mergers and relocations.
A formal submission was presented to the VFL commission in September 1987, but it was rejected at a board meeting one month later. Aylett - the VFL's chairman from 1977-84 and a key player behind South Melbourne's shift to Sydney in 1982 - approached a WA consortium about financing the relocation of a club to Canberra before the group presented the Californian counter-plan.
'It is proposed to relocate an existing Melbourne team to Los Angeles, preferably in time for the 1988 season,' the submission declared."
Warner's article certainly raises some interesting arguments for the international Aussies Rules community. Had the idea succeeded, the image of the game would already be enormous in the United States by now, and exponentially across the world. We wouldn't be seeing experimental value in players like Mason Cox, Jason Holmes and others from that country.
But infinitely more likely, a failure of that project would likely have caused damage to the brand of Australian Rules football and the game would likely not have grown in the United States in the same way that it has to date.
To read the full article from the Herald Sun about this extraordinary concept, follow this link.  
Picture Credit: Herald Sun newspaper.