Suns Rising In Middle East
Monday, December 11 2017 @ 08:14 pm ACDT
Contributed by: Wesley Hull
Views: 1,704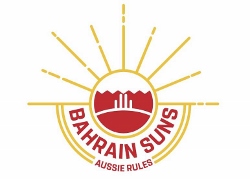 The Bahrain Suns' dream of re-entering the AFL Middle East competition has taken another couple of positive steps. Not only has the club released its new club logo (see image – top left), but it have also been invited to send a team to Muscat, in Oman, to compete in the Lightning Cup in January 2018.
Whilst the Suns have shared their moniker with the Gold Coast Suns, the logo itself is an original, rather than design to make the logo and club apparel stand out with a Bahrain flavour, rather than taking on the Gold Coast Suns' emblem in a revised format.
Now the search is on for players, coaches and umpires to make the journey to Oman for the event, to be played on 19th January at the ABA/Rugby Club Ground in Al Khuwair, Muscat. Whilst the opportunity by no means guarantees that the Bahrain club will be a part of the 2018/19 AFL Middle East competition, their ability to be in Muscat will certainly help accelerate the process.
The Bahrain club announced earlier this year that the aim was to have a viable club up and going as soon as is practical (see:
Bahrain Taking Steps Towards AFL Middle East Return
). To have this opportunity during the current season allows the club to progress further with player and personnel recruitment as well as assisting with sponsorships and other assistance needed.
It has been over six years since the Bahrain club (then called the Bahrain Blues) have played in the AFL Middle east competition, so the Muscat match will mark an historic return. Miracles are not expected initially, though the club is unlikely to knock back the offer of the odd miracle here and there as they grow.
It is hoped that the Bahrain Suns can accept the invitation quickly and turn their attention to assembling a team that can announce to the Middle East that they are back – which would be an enormous story of hope for the club and the competition and a great shot in the arm for all concerned.
Those driving the club deserve a huge pat on the back to get the Suns this far already, and who knows where this journey might go from here.
Picture: Reverse logo design for Bahrain Suns