Movember Cup In Manchester This Weekend
Monday, November 13 2017 @ 10:35 pm ACDT
Contributed by: Wesley Hull
Views: 1,363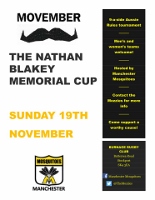 The Nathan Blakey Movember Cup will enter its seventh season in Manchester on Sunday. The event honours former high-flying Mozzie, Nathan Blakey, who passed away in 2011 after a battle with cancer. The event is designed to raise funds for and awareness of men's health, specifically cancers. The event is run in conjunction with the Movember Foundation and will feature plenty of men with moustaches. Women are under no such obligation, but will also be playing for the cause.
This year's event will feature two round robin divisions with finals decided by pool winners. Pool A will feature the Manchester Mozzies, Wolverhampton Wolverines, Glasgow Giants from Scotland and one of two University of Birmingham teams. Pool B will include the Nottingham Scorpions, Huddersfield Rams, Wandsworth demons from London and the second University Of Birmingham team. There will also be two combined women's teams playing across the day.
All pool games will feature two seventeen minute halves whilst the final will be two twenty minute halves. The carnival will be played at the Mozzies home ground at the Burnage Rugby Club from 11am to 6pm. The final will be played under lights. A cool day is expected with a strong chance of rain, but that will not slow down the players as they give their all for the cause.
Reigning Movember Cup title holders, the Huddersfield Rams, will be keen to once again hold up the cup, but they will face tough opposition which features three 2017 premiership teams in the Manchester Mozzies (AFLCNE), the Wandsworth Demons (AFL London) and the Greater Glasgow Giants (SARFL – Scotland). Once again it is sure to be a hard fought and entertaining tournament and a fitting tribute to Nathan Blakey and everyone to have been afflicted with the ravages of cancer.
For more information, go to the Manchester Mozzies facebook page at:
https://www.facebook.com/ManchesterMo...tion=group