Strasbourg Kangourous Host German Neighbours
Sunday, November 12 2017 @ 11:11 pm ACDT
Contributed by: Wesley Hull
Views: 1,065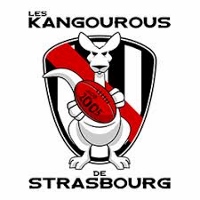 It was just a fraction over two years ago that the Strasbourg Kangourous won their last CNFA match – a 123-point walloping of the Perpignan Tigers. They didn't win another match that season and their final outing saw them walloped themselves by the Paris Cockatoos by a nasty 118 points. The club did not field a team in the 2016/17 season and it was anyone's guess when or if they might return.
Well, the Kangourous are back, and their victory on the weekend against a combination of German teams – the Freiburg Taipans, Stuttgart Emus and Dresden Wolves (a team that, amazingly, travelled 600 kilometres to play) – suggests the team is well on the path back to CNFA status.
Played in Strasbourg, a French city 400 kilometres east of Paris and almost on the Rhine River where it marks the French German border, the city is relatively close to both Stuttgart and Freiburg. It makes geographical sense for the Kangourous to have a closer football connection with these two nearby teams – Stuttgart around 150 kilometres away and Friedburg just 90 kilometres away.
Our "man on the ground" in Hautepierre, Baptiste Finck, reported that the Kangourous ran out comfortable winners on a wet and windy afternoon. The ground was muddy, creating difficult playing conditions. But the Strasbourg team, armed with two Western Australian players, played to the conditions and won by 51 points. The match was played over four twenty-minute quarters, though the final quarter was shortened due to the light waning.
The match was a friendly with nothing but fun riding on it. But it marks a big step forward for the Strasbourg Kangourous as they build belief that they can find the players and resources to return to the national competition sooner rather than later.
It will be interesting to see what the next step might be for the Kangourous, but for now there is still the chance to play more matches with their German neighbours and keep building.