Aussies beat the heat -- and the Irish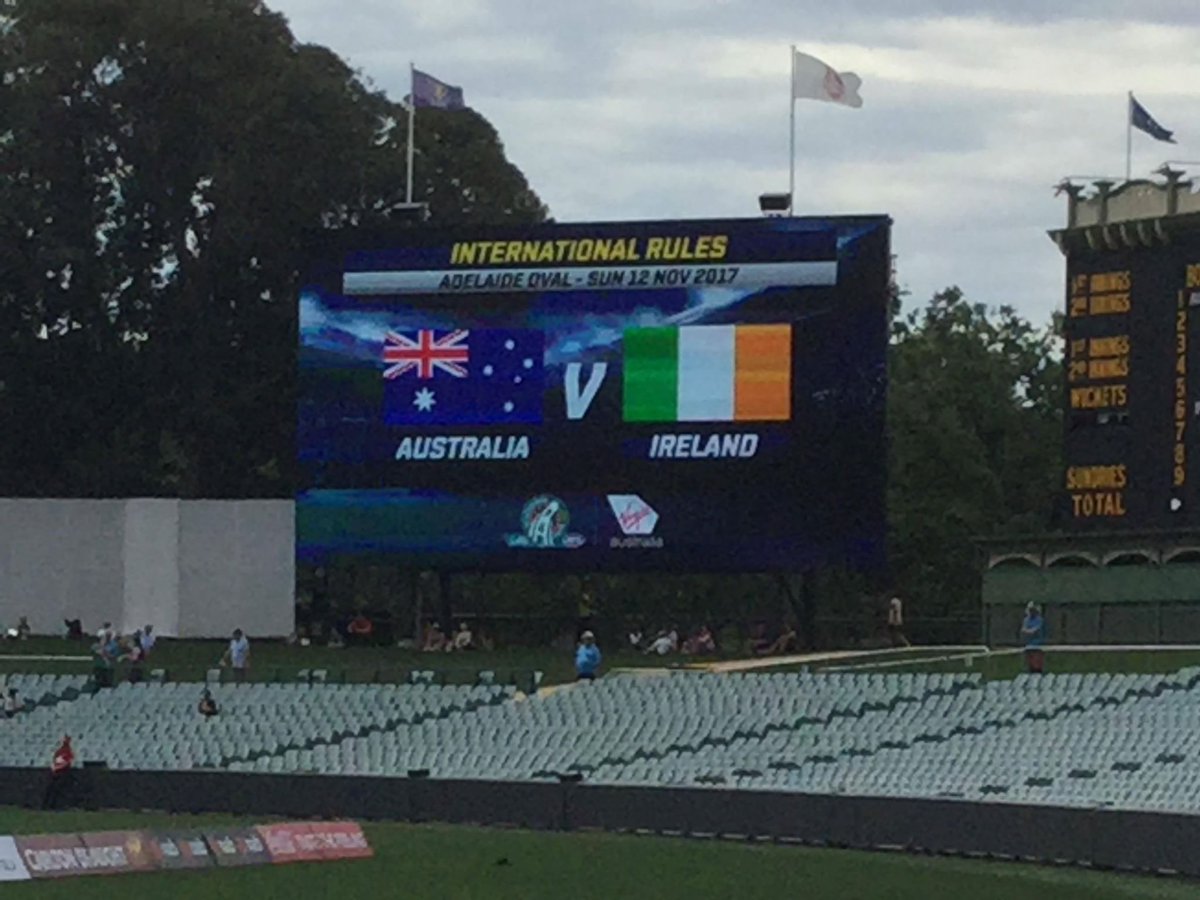 A solid group effort and a big second half lifted Australia to a 10-point victory over Ireland on Sunday afternoon at the Adelaide Oval.
There were a lot of variables in play coming into the first 2017 International Rules test match -- the Aussie team hadn't practiced formally up until the week of the match, the weather conditions weren't in anyone's favor, and the Irish team dealt with several players falling ill earlier in the week. A couple of late withdrawals for Australia -- primarily Toby Greene and Gary Ablett -- left a few question marks in the lineup.
But, as it turned out, for many of the Aussies, it was just another day at the office -- albeit with a round ball. Team captain Shaun Burgoyne, Nat Fyfe, and Patrick Dangerfield showed off their skills and fought off the Irish onslaught in front of a crowd of 25,000-plus (25,502 official).
After an impressive first quarter from the visitors, the Aussie side came alive and began to keep up with the fast pace of the game, dominating the disposals and clearances. Goalkeeper Brendan Goddard helped with his steady kick-ins, and also made two crucial saves to keep the Irish attack at bay.
However, perhaps Australia's biggest strength in the first test match was their ability to be patient and control the game clock. Players such as Zach Merrett, Kade Simpson, Jack Gunston, and others were able to slow down and speed up at will, resulting in silky smooth passages of play and some great clearances from halfback and the midfield. Combined with the quality pressure and tackling, this methodical approach wore down the Irish and the Aussies managed to hold on to a narrow halftime lead. Fyfe kicked Australia's first goal early in the second half and added three overs, while forwards Ben Brown and Chad Wingard booted a combined four overs.
But the pesky Irish wouldn't go away quietly, buoyed by Michael Murphy (one goal, four overs) and Conor McManus (a game-high seven overs). Zach Tuohy managed to keep the Irish within striking distance with some quality clearances throughout the match, while Paul Geaney and Conor Sweeney booted one over apiece. McManus, a County Monaghan product, won best on ground for Ireland, while Fyfe earned it for the Aussie side.
Ireland appeared to escape with a clean bill of health, but Australia wasn't so lucky. After an outstanding first half, Scott Pendlebury left the ground with a hand or finger injury and did not return. Dayne Zorko had to have his hip iced in the fourth quarter, but it looked to be a minor niggle.
The second IRS test match will be held on Saturday, Nov. 18th at Subiaco Oval in Perth at 4:45 PM local time.
AUSTRALIA 0.3.5 0.7.7 1.12.8 2.13.12 (63)
IRELAND 0.4.3 1.6.3 1.8.5 1.13.8 (53)
GOALS
Australia: Fyfe, Shuey
Ireland: M.Murphy
OVERS
Australia: Fyfe 3, Wingard 2, Brown 2, Dangerfield, Zorko, Simpson, Betts, Ryder
Ireland: McManus 7, M.Murphy 4, Sweeney, Geaney
BEST
Australia: Fyfe, Goddard, Dangerfield, Wingard, Simpson, Shuey
Ireland: McManus, M. Murphy, Tuohy, O'Shea
INJURIES
Australia: Pendlebury (finger)
Ireland: Nil
Reports: Nil
Referees: Matt Stevic (Australia), Maurice Deegan (Ireland)
Official crowd: 25,502 at Adelaide Oval