Tiwi Touch In Dreamtime Guernsey
Tuesday, October 24 2017 @ 03:43 pm ACDT
Contributed by: Wesley Hull
Views: 2,425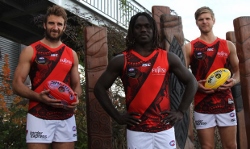 Simon Conway reports on the Essendon website of a brilliant initiative from the club, which will see students from the Tiwi Islands designing the clubs next Dreamtime Guernsey. The Tiwi Islands, made up of both Bathurst and Melville Islands to the north of Darwin, are already connected to the Essendon Bombers, with local NTFL club, the Tiwi Bombers, sharing colours and logo with the AFL giant.
The venture involving the Guernsey design will strengthen the existing link between the Tiwi Islands and the Essendon Football club. According to the article:
Students from the Tiwi Islands will design Essendon's 2018 Dreamtime guernsey.
Club Champion Gavin Wanganeen and award winning artist Chern'ee Sutton have designed the jumper in previous years.
Students from Tiwi College and Xavier College on the Tiwi Islands will have an opportunity to submit their design for the 2018 Dreamtime Guernsey.
The winner will be a special guest of the Club during Dreamtime Week, culminating in seeing the players run out in their jumper design at the game.
The Bombers have maintained a strong connection with the Tiwi Islands dating back to the day Michael Long was drafted from the Top End in 1988.
Current players spend time on the Tiwi Islands annually, Tiwi coaches travel to Tullamarine each year for tutelage from their Essendon counterparts and the Club plays an active role in supporting the Tiwi Bombers in the Northern Territory Football League.
The Tiwi Islands is also part of the Bombers Next Generation Academy zone and will form a key recruiting area when the Club enters the AFLW competition.
The original story can be found on the Essendon Football Club website at:
http://www.essendonfc.com.au/news/201...e-guernsey