Axed American Saint Pleads For Another Shot
Tuesday, October 24 2017 @ 03:24 pm ACDT
Contributed by: Wesley Hull
Views: 891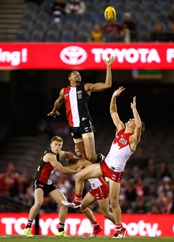 Dinny Navaratnam from the www.afl.com.au website has reported that delisted St Kilda ruckman and American recruit Jason Holmes is seeking another chance at the highest level. Holmes has been regarded as a success story in the transition of international footballers to the highest level of AFL football. Whilst clubs cannot continually take chances on unproven talent, Holmes makes an interesting case for himself.
DELISTED ruckman Jason Holmes is determined to extend his four-year career as the first born and raised American to play at AFL level.
Holmes, who turns 28 on Saturday, has lined up in five matches since being picked up at No.36 by St Kilda in the 2013 rookie draft.
None of those games came this year as Billy Longer established himself as the Saints' primary big man, with Tom Hickey and Lewis Pierce also competing for a spot in the senior side. 
 However, Holmes' ambition has not been dulled.
"I would love nothing more than to have another opportunity to try to compete at the highest level," Holmes told AFL.com.au.
A tenacious combatant, he has a mature body that could be relied upon as a back-up. 
"I can offer any team just that security that if I am picked, or a ruck goes down and you need someone to come in and still battle with the big boys at the AFL level, that I'll be in there providing the ball to the midfielders and forwards and whoever else needs it," Holmes said. 
The big American has a solid appreciation of his role.
"I just feel like your midfielders are your ball users, they're the guys out there making big decisions for the team out on the field, and they need the ball in their hands. I take a lot of pride in knowing my teammates appreciate my service and I get them the ball where they want it, when they want it, because when they call for it, I know that they're trusting me to get it there for them," Holmes said. 
He found out about being axed last Friday, a day after the NAB AFL Trade Period ended. Holmes had been in the US for about a month, and was enjoying time with his Australian girlfriend of two-and-a-half years. 
After a trip to a museum and some shopping on Michigan Avenue – a prominent Chicago shopping strip – the pair were preparing for dinner in the John Hancock Centre at The Signature Room, located on the 95th floor. 
St Kilda coach Alan Richardson's name flashed up on Holmes' phone and he knew what to expect.
"You kind of can assume what that call's about when you get it," Holmes said. 
Despite disagreeing with the decision, he has no qualms with St Kilda, expressing only gratitude at the way he was treated. 
He sees a bright future for the Saints as they bid to win their second premiership.
"You need 45 guys to be on the same page and I'm telling you, I can see it at the Saints," Holmes said.
"The club's getting there.
"You can tell that they're moving as one and I think that's one of the most important things that you need to win a flag." 
No clubs have come calling yet, but the official announcement of his delisting was made on Monday, so it is still early. 
Even if he is not playing AFL next season, Holmes wants to keeping playing football. A career in financial planning looms after he became accredited in 2016, while he is also in the process of becoming a permanent resident of Australia. 
His body remains sound, the desire is there, and his appetite to develop is insatiable.
"My 3km time trials and everything, I started shaving those times when I arrived and I'm fitter to the point where I'm not tired anymore. I can leg out a full quarter without getting subbed off and I think that extra tank gives me more energy to win the ruck and then go play some football, go get the footy and be aggressive, get forward," Holmes said. 
"Because I wasn't much of an offensive asset at the start, I also took pride in making sure I was trying to help the defence as well. 
"I think I have so much more to improve, I think I can be more aggressive in the air. I think that's something I'll always want to work on.
"I still think I have quite a bit to improve. I've only been playing for four years and I don't have a 10-year-old footy body yet. I still think I've got a lot to give."
The original article can be found at: http://www.afl.com.au/news/2017-10-24/axed-american-saint-puts-himself-in-the-shop-window