2017 USAFL Nationals pre-match formalities completed
Sunday, October 22 2017 @ 01:17 am ACDT
Contributed by: Troy Thompson
Views: 687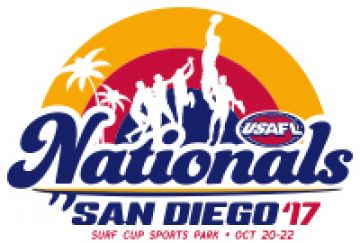 The Friday before the US Nationals for most of the 1500 competitors is a travel day. Arriving to San Diego by whatever means necessary they descend on the tournament hotels and register.
But a decent size group are already on the ground. A mixture of administrators, coaches and some early arrivals.
The Administrators conference ran throughout the Friday with various presentations by clubs discussing how they do things at their footy club and sharing ideas and experiences that can help others. The session was chaired by outgoing President Mike Shepherd.
Also on the agenda were a number of items. Revolution and Liberty coaches reported back on their International Cup campaigns. Rod Buncle and Tony Fairhead presented on their player exchange program and current exchange player Tyler Ames shared his experience at both Darwin and Montrose. Other presentations filled in clubs on the state of play with USAFL Umpiring and the Women's Association. The session even saw one city that is bidding to be the future national championships host, presenting to the gathered club representatives. Finally clubs that have seen some great player growth this year shared how that all came about.
Following all that the USAFL held their AGM to elect their office bearers going forward. A new board was elected. Headed up by new President Steve Grantland (Little Rock Coyotes).
While all this was going on, the grounds for today's matches were being prepared. A women's clinic with the Aussie Sparks was a big success with around 70 players joining them for the session.
Also in the background, coaching and umpiring clinics were taking place continuing to grow the vital skills required to keep the game ticking at a high level.
The welcome dinners saw hundreds gather at the San Diego Marriot where Rod Grljusich hosted. USAFL Life memberships were awarded and the new USAFL Revolution Hall of Fame saw it's first group of inductions.
As players and officials continued to trickle in from all across the country and in some cases around the world, team meetings were held ahead of what will be two massive days of footy.
Forecast for today will be around 80 degrees Fahrenheit, and Sunday around 90 which will be a little on the warm side. But it is California after all.
Troy Thompson in San Diego.