Cora Staunton AFLW – From Mayo To GWS Giants
Thursday, October 19 2017 @ 07:24 am ACDT
Contributed by: Wesley Hull
Views: 1,869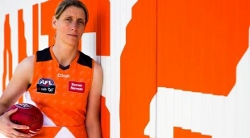 The following article from the Irish Independent looks at the drafting of superstar women's Gaelic footballer Cora Staunton by AFLW club the Greater Western Sydney Giants. Cora was taken with pick 45 in yesterday's AFLW NAB AFL Women's Draft. Not only is Cora's selection a great personal success, it also opens wider the prospects of more Irish and other international players seeking to be drafted in coming years.
Mayo star Cora Staunton will feature in the AFLW in 2018.
She will be the first international athlete to be drafted to play in the league which gets underway in January after she joined the Greater Western Sydney Giants.
The 34-year-old flew out to Australia 48 hours ago to audition in front of head coach Alan McConnell and men's assistant coach Nick Walsh, a former Cavan footballer.
Staunton made the decision to change codes after she had a conversation with Walsh at the 2016 FEXCO Asian Gaelic Games.
"It will be a huge challenge but us Irish love a challenge," Staunton told the Herald Sun in Australia.
"I've never played AFL before and had my first practice at it with Alan and Nick this morning.
"Getting used to the ball will be the biggest thing, along with the rules of the game."
McConnell said. "Cora Staunton is probably the surprise package of the selections in the draft,"
"Cora comes from an elite background in football in Ireland. She recently played in the All Ireland final at Croke Park in front of 46,000 people on the back end of that competition, unfortunately losing. She's a goalkicking forward so we're looking for her to bring some goalkicking power to our team as a deep forward."
Staunton had been in contact with the club since July but her trip to Australia was delayed by Mayo's impressive run to the All-Ireland final and club commitments.
She flies home again on Saturday to play club championship with her club Carnachon and will make a decision on her Mayo future in March.
She told RTE Sport: ""It's a very short season.
"I'll move out once the club championship is over. I'm aiming to be out in the first week of December. It's a seven-game series, if you get to the final it's eight games.
"The first round starts at the end of January; it's a run until the end of March. Once that's over I'll be home again.
"I've no decision made on retirement. I'm going to give hopefully the next six or seven weeks to the club (Carnachon) and try and do my best there, then come out and start life out here.
"It'll buy me an extra couple of months before coming to a decision. I'll see how the body is come March. I'm not ruling anything in or out at the moment.
"When the season is over here in March, God knows where it will take me. I'll see how I am. I won't be making any decision until the end of March or April when I come home."
Staunton has shown her sporting prowess in a variety of different codes throughout her career.
A four-time All-Ireland winner with Mayo, she has also won a FAI Women's Cup winner's medal with the Mayo Ladies League representative team in 2006 and played rugby in the Connacht Women's League.
She follows in the footsteps of the likes of Kerry's Tadhg Kennelly and Melbourne legend Jim Stynes in making the move Down Under.
Former Cavan midfielder Laura Corrigan is already plying her trade in the ALFW with Melbourne.
The original story can be found at: http://www.independent.ie/sport/gaelic-games/ladies-football/mayos-cora-staunton-signs-professional-contract-with-greater-western-sydney-giants-in-the-aflw-36238787.html
For a full rundown on the draft, visit the AFL's website at: http://www.afl.com.au/womens