20th Anninversary USAFL Nationals set for San Diego this weekend
Wednesday, October 18 2017 @ 06:22 am ACDT
Contributed by: Troy Thompson
Views: 904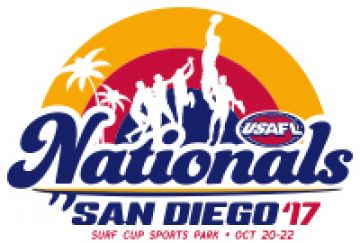 The 2017 USAFL National Championships will be held in San Diego this weekend. This is the first time San Diego has hosted the tournament and the first time in many years the tournament has been held on the west coast. Matches will be played throughout the day on Saturday (21st) and Sunday(22nd), but the official proceedings include Friday where a club administrators forum will run through that day and also coaching, umpiring and women's footy clinics will be held ahead of the official registration and welcome on the Friday night.
The match venue is Surf Cup Sports Park, 3885 Via De La Valle, Del Mar, CA 92014. The venue will be hosting seven divisions (combined men's and women's) with
This year's tournament will be the biggest in its 21-year history: 53 teams spanning seven divisions, representing nearly forty clubs across the USA and Canada.
TOURNAMENT FORMAT:
For all divisions except Women's Division 2: Eight teams, divided into two pools of four. Each team plays the other three teams in its group. The teams with the best record in its group advance to the Grand Final on Sunday afternoon.
MEN'S DIVISION 1
| | | |
| --- | --- | --- |
| Seed | Pool A | Pool B |
| 1 | Austin Crows | Golden Gate Roos |
| 2 | New York Magpies | Denver Bulldogs |
| 3 | Los Angeles Dragons | Dallas Magpies |
| 4 | Baltimore-Washington Eagles | Calgary Kangaroos |
WOMEN'S DIVISION 1
| | | |
| --- | --- | --- |
| Seed | Pool A | Pool B |
| 1 | San Francisco Iron Maidens | Denver Lady Bulldogs |
| 2 | Montreal Angels | Calgary Kookaburras |
| 3 | Minnesota Freeze | Sacramento Suns |
| 4 | Seattle Grizzlies | New York Magpies |
MEN'S DIVISION 2
| | | |
| --- | --- | --- |
| Seed | Pool A | Pool B |
| 1 | Orange County Bombers | Quebec Saints |
| 2 | Minnesota Freeze | Houston Lonestars |
| 3 | Boston Demons | Chicago Swans |
| 4 | Sacramento Suns | Portland Steelheads |
WOMEN'S DIVISION 2
Format: One pool of five teams. Each team plays the others once (four games total), best record declared premiers. Ties are broken by head-to-head, then percentage.
Teams are listed in alphabetical order:
Baltimore-Washington / Boston
Columbus / North Star / Chicago
Houston / Dallas / Wisconsin
Los Angeles / Arizona / San Francisco-B / Des Moines
Portland / Philadelphia
MEN'S DIVISION 3
| | | |
| --- | --- | --- |
| Seed | Pool A | Pool B |
| 1 | Seattle Grizzlies | San Diego Lions |
| 2 | Philadelphia Hawks | North Carolina Tigers |
| 3 | Nashville Kangaroos | Arizona Hawks |
| 4 | Columbus Jackaroos | Baton Rouge/Atlanta |
MEN'S DIVISION 4
| | | |
| --- | --- | --- |
| Seed | Pool A | Pool B |
| 1 | Tulsa/OKC/Little Rock | Houston*/Dallas* |
| 2 | Cincinnati/Indy/Cleveland | Quebec*/Ft. Lauderdale |
| 3 | Des Moines Roosters | Calgary*/Edmonton |
| 4 | Seattle Grizzlies* | New York*/OC*/Portland* |
* Denotes Reserves Side
MEN'S RESERVE DIVISION
| | | |
| --- | --- | --- |
| Seed | Pool A | Pool B |
| 1 | Austin Crows | San Diego Lions |
| 2 | Golden Gate Roos | Denver Bulldogs |
| 3 | Los Angeles Dragons | New York Magpies |
| 4 | Baltimore-Washington Eagles | Boston Demons |
The men's divisions and women's Division 1 were announced live on the USAFL Facebook page on Thursday, September 28th
The full schedule can be seen at https://usafl.com/nationals/2017/schedule
Brian Barrish's excellent preview articles can also be seen at https://usafl.com/news/20171016/nationals-preview-mens-division-1 and https://usafl.com/news/20171017/nationals-preview-mens-division-2-and-3