England dominate Euro Cup Men's and Women's in Bordeaux
Monday, October 09 2017 @ 12:58 pm ACDT
Contributed by: Laura Turner
Views: 1,503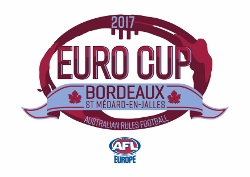 The tables have finally turned in European Australian Football with both the men's and women's England teams not only claiming but dominating the Euro Cup 2017.

The most pleasing thing about both squads is that there were a number of debutants, players who have never pulled on the England guernsey before. Ruckwoman Allanah Blount's involvement in IC17 had a huge impact on her development despite the 23 year old only picking up the Sherrin in March this year.

For the Dragonslayers fellow Sheffield boy Mark Ireland whose IC was cut short by a wrist injury showed great promise as a cross code rugby player.

Some could argue that the men's Irish team which contained few IC players was not a true representation of the best of the best Irish talent however with the Dragonslayers squad only fielding 5 International Cup GB players the teams were in the same boat come the final.
The same could not be said for the women's teams. Both squads contained experienced players many of whom have taken part in previous Euro Cup competitions and played in IC17. The fact of the matter is that England truly dominated in both games.

The development of the game on English soil has finally come to fruition with the huge success of the London League and pockets of significant growth and development out of london in places such as Nottingham and Manchester.
Despite this forward thinking and investment in the game, it is not all a pretty picture outside of London with some men's clubs coming close to folding due to a lack of members. Hopefully recent home achievements can spur on these clubs to follow the model of the Nottingham Scorpions who last year created their first women's team and invested heavily in attracting new male members.

Success breeds success in life and the next three years in preparation for IC20 will certainly be interesting. The Irish are wounded but have long proven that you should never write them off, there is always more fight in the dog.
The Banshees will also need to cope with the transition to new leadership with the retirement of their long standing coach. Knowledgable, dedicated and all round gentleman, Pat Levy.

At the beginning of a new 'three year cycle' it is evident that the dominant European team will be that which can offer significant investment in the development of the sport in their home country.

England Vixens 37
Irish Banshees 14

Irish Warriors 58
England Dragonslayers 9