Lions, Lions Everywhere…
Monday, October 02 2017 @ 01:43 pm ACDT
Contributed by: Wesley Hull
Views: 2,084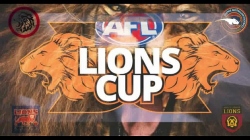 "Lions, Lions Everywhere - to Lyon one and all
To have a kick and have some fun and chase that ol' football."
Such was the theme of last weekend's Lions Cup – the inaugural football tournament put together by the ALFA Lions in Lyon France. The event brought together Lions teams from France, Germany, Denmark and England to compete for the honour of being the greatest Lions in Europe.
The format was a six-match round robin draw, pitting each team against each other once. After the six completed matches, the results saw a three-way tie on wins at the top. The North London Lions, Odense Lions and ALFA Lions recorded two wins each – the title being decided by for and against.
Scores:
ALFA Lions 40 d Odense Lions 11
North London Lions 39 d Rheinland Lions 11
ALFA Lions 35 d Rheinland Lions 20
Odense Lions 18 d North London Lions 9
Odense Lions 32 d Rheinland Lions 1
North London Lions 50 d ALFA Lions 9
In the end it was the North London Lions winning the cup with a runaway score differential of +51 (or 208.5%). Odense narrowly took second place (+3 or 106.0%) from the ALFA Lions (+3 or 103.7%). The battle for second and third was so close that had the ALFA Lions kicked just two more behinds for the day they would have finished second. 
But the results mattered less than the fun and camaraderie experienced by all on the day. The event was well received and may well become a permanent post-season fixture for travelling Lions. There will be some other very curious Lions looking on from the wings (Leeside Lions in Ireland and even the Jerusalem Peace Lions in the future as a warm up for future Euro Cups).
A great initiative for European footy and played in a spirit of coming together to have fun.
Well done, Lions.
"Go Lions, [insert your Lions here] Mighty Lions
We'll kick the winning score,
You'll hear the mighty roar."