Lions Claim Coupe De France
Friday, September 29 2017 @ 12:21 pm ACST
Contributed by: Wesley Hull
Views: 1,371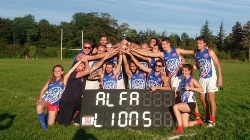 The ALFA Lions started their 2017/18 premiership defence in fine style in Paris last weekend at the Coupe de France. Whilst having admitted before the tournament that the main aim of the event was friendship and the creation of an enjoyable atmosphere to start the new season, it will not be lost on them – or any other team – that the Lions are back again.
Going into the pool matches the Lions started with a 32 to 16 win over the Toulouse Hawks followed by a second pool win against the Bordeaux Bombers 43 to 20.
In their semi-final against the Cergy-Pontoise Coyotes, the Lions put the foot down and ran off with a strong 40-14 victory. This set up their final against the Paris Cockerels. After a strong game of defences, it was the Lyon based team that took the honours, running out winners over the Cockerels 28 to 11.
The Lions return home to Lyon for this weekend's Lions Cup – an invitational tournament featuring four European Lion teams from Odense (Denmark), North London (England) and Rheinland (Germany). Once again the focus will be fun, friends and footy, but in the back of the ALFA Lions' mind will be the knowledge that another few games will be great practice for the team heading towards round one of the 2017/18 CNFA season.
Overall results:
ALFA Lions 32 d Toulouse Hawks 16
Paris Cockerels 24 d Paris Cockatoos 6
Paris Cockerels 37 d Cergy-Pontoise Coyotes 14
Toulouse Hawks 20 d Bordeaux Bombers 18
Cergy-Pontoise Coyotes 24 d Paris Cockatoos 20
ALFA Lions 43 d Bordeaux Bombers 20
Semi-Finals
Paris Cockerels 47 d Toulouse Hawks 28
ALFA Lions 40 d Cergy-Pontoise Coyotes 14
(Paris Cockatoos 34 d Bordeaux Bombers 8) Decider for 5th & 6th place.
Final
ALFA Lions 28 d Paris Cockerels 11