Lions Emerge From Their Den To Roar Again
Saturday, September 23 2017 @ 11:29 pm ACST
Contributed by: Wesley Hull
Views: 1,334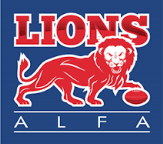 It was only a few months ago – May to be exact – that the ALFA Lions became the toast of their home city of Lyon and French footy in general. Their success after just four years in the national competition was the stuff of legends and as the new season approaches they are ready once again to chase the ultimate prize.
The Coupe de France tournament commences in Paris this weekend and the Lions will be there. But a quick chat with the Lions' crew puts this tournament into perspective for this club and their aims this year. "The Coupe de France takes place in Paris this weekend. This is good to start the season with this event as we can meet everyone and create a nice atmosphere for all the year."
"There are six teams this year. Two teams from Paris, Cergy Pontoise, Toulouse, Bordeaux and us. It will be a really open [competition] as it often is at the start of the season. We know that teams like Bordeaux and Toulouse are becoming stronger this year."
"Last year was amazing for the Lions - we are still dreaming about last year, especially the grand final. I suppose there is a kind of decompression in our minds as we worked hard for nine months last year. We know it will be impossible to be undefeated two years in a row but we have some ambitions. We are really impatient to start the year after [our success], which is probably the most difficult."
"For the ones who've worked for four years to make the club grow, it is good to watch how well the club keeps pushing hard to improve."
"Being champions [has been] good to get some help in Lyon. We have got a couple of nice articles in newspapers and even on TV. We have also made contact with the professional rugby club of Lyon, trying to organize a common event."
The club is also experiencing growth since their success last year. "I'm not sure if it is linked with our title, but we are never less than 30 players each training. This is quite new for us, and sometimes difficult to deal with! But we can't complain about that for sure."
The Lions certainly have a set of goals for the new season. "First of all, we want to keep working on the clubs structure, try to get some sponsors and add players. On the field, as I say, it may be impossible to do the same year than the last. But being a back to back champion is a very real goal though. If we can be in the top four with the most players involved as possible it would be awesome for us. Then we know that we are capable to beat everyone during finals."
"We will also discover [the experience of] Champions League this year, and this will be very exciting. We will try to do our best to represent France. Being in the top five of that competition is a goal that we can afford."
The Lions are also involved in a new venture, The Lions Cup. It brings together the ALFA Lions from France, Germany's Rheinland Lions, Denmark's Odense Lions and the zNorth London Lions fom England in one small tournament. But as the club says, [We are doing this for the first time] but it is more for socializing with other clubs around Europe than winning a competition. We really hope the guys [from those other clubs] will have fun in Lyon on and off the field.
The Lions have a busy schedule to start the year, but they are ready and up for the challenges of the new season. Last year they created history with their first CNFA premiership – this year could bring anything.