French Season Under Way With Coupe de France
Saturday, September 23 2017 @ 10:18 pm ACST
Contributed by: Wesley Hull
Views: 1,627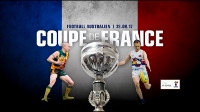 With the off-season done and dusted it is time for the teams of the CNFA national Australian Rules football competition to dust of the cobwebs completely and play some tough, hard footy. That commences this weekend with the Coupe de France getting under way. Six teams will hit the playing fields in Paris with the two local clubs – the Paris Cockerels and Paris Cockatoos – joined by near neighbour the Cergy-Pontoise Coyotes.
Also journeying to the competition are the Toulouse Hawks, the Bordeaux Bombers and the reigning CNFA premiers, the ALFA Lions.
Like all pre-season competitions, the Coupe de France provides the opportunity for clubs to put new skills and tactics into place as well as gaining experience for players new to the game – as well as those who will just benefit from being under match conditions again.
Some of the questions from last year will begin to be answered. The question of whether the Lions will be a "one-hit wonder" will be answered. Teams can see them in action again and try out their new tactics against them. The Lions themselves will be hell-bent of proving that the 2016/17 season was just the start of an era.
The Toulouse Hawks were down last season, but 2017/18 provides new opportunities for them to develop again in their own right after being a significant part of the arrival of the Blagnac Aviators. The Bordeaux Bombers will be keen to show that, as the host team and city for this year's Euro Cup, they are a force of French football. Both Paris teams and the Coyotes reached finals last year and the Coupe de France is the first step to them doing so again.
The tournament is a wonderful curtain raiser to the upcoming Euro Cup, which then leads neatly into the new CNFA season. Dates are yet to be confirmed, but the new season could commence on 21st October. Clubs cannot wait, but for now they can use the Coupe de France to get back into the groove and prepare.