Inaugural Baltic Cup Goes To Cats
Monday, September 18 2017 @ 04:47 am ACST
Contributed by: Wesley Hull
Views: 1,661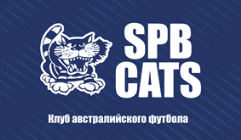 Russian and Finnish football have added a new competition to their respective football calendars with the development of the Baltic Cup – this year played in St. Petersburg. The tournament featured teams from the Russian city playing against the Helsinki Heatseekers club representing Finland.
In a four-team draw, the St. Petersburg club fielded their Russian champions, the Cats, as well as a second team – the Northern Tigers which are a local club playing as part of the local St. Petersburg competition. They also added some played to the Leaders Rugby Club for a fourth team as did the Heatseekers. The tournament was played as a nine per side competition.
The Helsinki Heatseekers, fresh from having defeated the Vaasa Wombats to take the Finnish (FAFL) premiership two weeks ago, made the journey to the Russian city for the event. The St. Petersburg Cats also won the Russian Championship for 2017 with the Lazy Koalas unable to make the journey from Moscow to compete, therefore forfeiting the final leg of the Russian Championship to the Cats.
The results for the tournament were:
Baltic Cup 2017 – St Petersburg Rugby Stadium
Semi-Finals:
St. Petersburg Cats d Northern Tigers 58 to 39
Helsinki Heatseekers d Leaders Rugby Club 34 to 19
Final:
St. Petersburg Cats d Helsinki Heatseekers 56 to 50
As a result, the Cats are the Baltic Cup champions, but expect the Heatseekers to bounce back next time and get that cup back to Finland. Perhaps by then the cup may also see the AFL Estonia dream of a club based in Tallinn (the Estonian capital) competing – with all three cities located on the Gulf of Finland (and Sweden just across the Baltic Sea).
Certainly the potential for further growth is there, but for the moment the St. Petersburg Cats sit as both the Russian and Baltic Cup champions – a tremendous achievement and a credit to all concerned.