Leeside Lions Defend Title – 2017 ARFLI Premiers
Sunday, September 17 2017 @ 07:06 pm ACST
Contributed by: Wesley Hull
Views: 2,843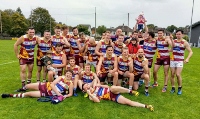 The footy champions from Cork, the Leeside Lions, have claimed the 2017 ARFLI premiership and in so doing gone back to back after winning the title in 2016 also. In a match described as "a keenly contested game with some quality footy from both sides", the Lions held of a determined South Dublin Swans by 44 points to write a new chapter in their own history, as well as the history of Australian Rules football in Ireland.
The final score saw the Leeside Lions 13 7 85 down the South Dublin Swans 6 5 41 in front of an enthusiastic home crowd at Mardyke Arena in Cork.
The result tops off another great season from the Lions – the team following on from last year's success by being the dominant side of 2017. But it wasn't all one-way traffic on grand final day with the Swans rolling up their sleeves and making the Lions work hard.
The opening quarter saw the Lions out to a two goal lead – a handy lead but not unassailable. By half-time they had stretched that to a four goal lead. Things became very difficult for the Swans in the third quarter – the "premiership" quarter – when the Lions piled on five goals to two to jump out to a 45-point lead. The Swans outscored the Lions in the final quarter, but the damage had already been done and the Lions raised their arms in triumph when the final siren sounded.
Lion's veteran Ian O'Sullivan was named player of the match, though it was certainly a team effort as any premiership win is.
The loss compounded an emotional finals series for the Swans. Their place in the grand-final came from an after-the-siren goal in the last of the round robin semi-final matches. After the Belfast Redbacks won their match against the Galway Magpies, and the Swans downed the Redbacks in the second game, the day would come down to the final game. Scores were locked after a Swans behind. The ensuing kick-out from the Magpies went out on the full. The siren sounded with Swan's player Ronan Cull having to kick for goal, into the wind, to win – he goaled and guaranteed a Swans' grand-final.
It was a highly dramatic penultimate match of the season, but for the Swans the elation of that day was replaced by the heartache of going down in the grand-final.
Attention will now turn towards the Irish teams headed to Bordeaux for the Euro Cup next month. The Lions, however, may still have some serious partying to do.