St.Petersburg Cats Take Russian Box Seat
Sunday, September 10 2017 @ 01:07 pm ACST
Contributed by: Wesley Hull
Views: 1,442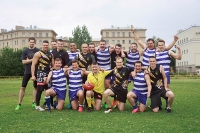 The third round of the Australian Rules Football Russian Championship for 2017 took place on 2nd September at the Moscow State University stadium. This round, called the Concrete & Steel Cup, was played in fine conditions in front of a modest but committed crowd. The Cats won the day and have now set up their chance to take the AFL Russia title for 2017.
The final scores saw the Cats lead at every change against the home team before holding on to a five-goal victory – 81 to 51. Our Cat reporter in St.Petersburg, Alexey Andryushin, sent his report about the day and its ramifications.
 As soon as Koalas got the win in the first match of the 2017 season (back in April at MSU Stadium, Moscow – winning 65 to 44), the Cats were ready to take revenge. There was also second round of tournament in St.Petersburg on 29th April, but the Koalas didn't show up in St. Petersburg, so the Cats got the forfeit win 30 to 0).
The third round of the tournament took place at Moscow State University stadium. The weather was perfect, and both teams were in their best conditions to compete against each other. 
In the first quarter, the Koalas tried to shoot long distance, but decent defence from our guest team allowed them to score only one goal and five behinds for the Moscow team. Then the Cats managed to extend the lead up to 11 points by the halftime whistle. The host team, however, tried to make comeback, and they succeeded. In the beginning of third quarter, they scored two fast goals and maintained the lead for a short time. Unfortunately, for them, the Koalas spent almost all their energy in that burst. In the fourth quarter, the Cats responded with four goals, one after the other, and their opponents had no answer for this. The final score was 51 to 81 in favor of Saint-Petersburg team.  
St.Petersburg Cats now have 2 wins (one of them being a forfeit), and Koalas have only one, so according to the AFL Russia 2017 regulations if the number of wins is equal, the team without forfeit losses has an advantage. The only thing the Cats need to win 2017 Championship is to show up to the fourth round match on the 16th of September at St.Petersburg's Kirovets stadium. 
St.Petersburg's club in 2017 continued to bring new recruits into the squad, so this summer the first Saint-Petersburg Championship was started. Two teams have now been made: the SPb Cats & Northern Tigers, and three matches have already been played between these squads – the Cats now lead 2 to 1.  
The Cats also expect to organize a friendly match against Helsinki Heatseekers this September and prepare to participate in Euro Cup in Bordeaux next month as a part of Team Russia.
Quarter by Quarter:
Lazy Koalas 11 St.Petersburg Cats 13 (Quarter Time)
Lazy Koalas 24 St.Petersburg Cats 35 (Half Time)
Lazy Koalas 48 St.Petersburg Cats 56 (Three-Quarter Time)
Lazy Koalas 51 St.Petersburg Cats 81 (Final Score)