AFL clubs look at fresh new crop of Irish talent
Wednesday, August 23 2017 @ 10:25 pm ACST
Contributed by: Frederick Shaibani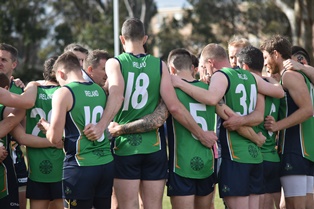 With the recent success of a new wave of Irish recruits into the AFL system, what major Gaelic football prospects are on the horizon for a code switch to Aussie rules? This year would seem to be a ripe time for such recruits, with the continuing success of AFL players from Gaelic backgrounds, such as Geelong's Zach Tuohy, Hawthorn's Conor Glass, and Essendon's Conor McKenna.
Additionally, the International Rules Series will be held in Australia once again this year, and the Ireland Warriors recently placed third at the 2017 International Cup. Jim Stynes (RIP) and Tadhg Kennelly might not be winning AFL premierships anymore, but it's safe to say that the Irish experiment is alive and well in footy.
One of the main challenges for recruiting and retaining Irish players is not just the transition to a different sport, but also the cultural differences and general homesickness that many ex-Gaelic footballers experience. Nevertheless, there are a number of AFL clubs who are keen on recruiting several more Irishmen in the coming months as category B rookies.
Two youngsters from Donegal GAA, Jason McGee and Eoghan "Ban" Gallagher have taken a trip to Australia to trial for the Brisbane Lions. The Lions have taken a chance on top-level Gaelic talent before, most notably with the Hanley brothers, Pearce and Cian, the latter of whom is still on the team's international rookie list (Pearce was traded to the Gold Coast Suns last offseason). Although Cian Hanley's AFL career has been marred by injuries thus far, he could be a catalyst at the club to see if Gallagher and McGee could make the transition to Aussie rules.
The North Melbourne Football Club is also looking at the Gaelic talent pool, as they're interested in GAA youngsters Rian O'Neill and Jack Kennedy. Both players visited Australia several weeks ago and got to see fellow Irishman Conor Glass' excellent performance in the Hawthorn-Sydney clash at the MCG. The Kangaroos have recruited several Gaelic players in the past, but none have played for the club at senior level yet.
Possibly the most talented Gaelic footballer that is currently being scouted is David Clifford of County Kerry GAA. The 6'2" Clifford is an outstanding athlete and has Kerry poised to push for another all-Ireland championship, but he will definitely be a hot topic among AFL clubs who are captivated by his potential.
Two other prominent Gaelic prospects to watch are Cillian McDaid and Stefan Okunbar, who were impressive at the NAB AFL Academy in the US earlier this year. McDaid has excellent speed and ball skills, while Okunbar has also been praised for his size and work ethic by scouts. AFL international talent manager Kevin Sheehan has confirmed that both McDaid and Okunbar will be appearing at the AFL Draft Combine in October.
It will be intriguing to see which Gaelic football converts will be chosen as international rookies this offseason. Under current AFL bylaws, clubs may select one Irish player as a category B rookie, but additional prospects will count against a club's picks in the AFL rookie draft.

Comments (0)
---
World Footy News
http://www.worldfootynews.com/article.php/20170823212543604