Roos To Historic First Grand Final
Saturday, August 19 2017 @ 10:09 pm ACST
Contributed by: Wesley Hull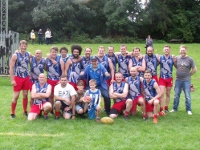 The Kingdom Kangaroos have made it into their first ever grand final by downing the Edinburgh Bloods by 15 points in their preliminary final. It is a great occasion for the club, having joined the SARFL competition back in 2013. Whilst other clubs have started in recent years, the Kangaroos have managed to survive their infant stage and now reach the biggest match in the club's history.

It sets up a huge grand final match when the Roos will take on the Greater Glasgow Giants tomorrow at the Linlithgow Rugby Club.

Whilst the Giants will go into the match as favourites, the game will not be a one-way street. The Kingdom Kangaroos defeated the Giants only a few weeks ago and have to be rated a chance of an upset by doing so again.
The clash is also important to showcase the development of the game in Scotland, with both teams the newest additions to the league (of those playing this year) and creating a season where neither of the traditional rivals – the Glasgow Sharks or Edinburgh Bloods have reached the biggest day of the footy year.

The match kicks off in just a few hours, and a raucous and appreciative crowd is expected to support the teams – but you can bet your life that the crew from Kirkaldy, Fyfe, will be the most vocal they have ever been, trying to now steer their Kangaroos to their maiden SARFL premiership.

It is a historic day for the SARFL competition and AFL Scotland, but an especially historic day for the Kingdom Kangaroos as they sit just a couple of hours away from potential glory. Already the sounds of 'Mon the Roos are echoing across Scotland. It is sure to be a great day for Scottish footy.

Comments (0)
---
World Footy News
http://www.worldfootynews.com/article.php/20170819220942597