My Multicultural Footy Story
Saturday, July 29 2017 @ 08:07 pm ACST
Contributed by: Wesley Hull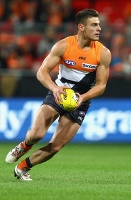 To help to promote and celebrate the 2017 Toyota AFL Multicultural Round, the  www.afl.com.au    website has published a wonderful collection of vignettes of Australians involved in the game at all levels from diverse cultural backgrounds. From current players at the highest level to those involved with local footy, the stories of these people's journeys in footy tell a great story of passion and love for our game – as well as highlighting the contributions made to the game by people of such varied multicultural backgrounds.
FOOTBALL has long been promoted as a game anyone and everyone can participate in. Whether you're playing, coaching or umpiring at the highest level or contributing voluntarily at grassroots, there's a role for all of us.
Several themes emerge from this snapshot look at the footy stories of 12 people from vastly different backgrounds: the game is fun, can help break down barriers and ease the transition into a new culture, draws families and communities together, teaches various skills and helps build resilience.    
 Stephen Coniglio
Player, Greater Western Sydney Giants
Born: Perth, Western Australia
Background: Italian and English 
"My dad's Italian and came to Australia with a lot of family in the 1960s, and my mum was born in England and moved over in her early teens. AFL is very foreign to my family, and my Nonna (grandmother) still doesn't understand it. They were scared for my wellbeing, with the hits and tackles, and couldn't get around it compared to soccer. I grew up loving soccer and still do to this day. It wasn't until I was nine or 10 that I started playing football. My mates played at a local club and at recess and lunchtime at school, so I began playing with them and fell in love with it. My brother ended up playing as well. I'm really proud of being Australian, but also of where my parents have come from. Seeing the number of cultures in the game is why it's so important for me to be an AFL multicultural ambassador. AFL might not be the first sporting preference for kids from other backgrounds, but it's a fantastic sport and I want to be able to show them it's a pathway they can head down as well."
Greatest football lesson: "The story of the Giants the last few years. There are hard times and hard sessions and huge losses and a lot of downs, but they make the better times sweeter."
Sabrina Frederick-Traub
Player, Brisbane Lions
Born: outside London, England
Background: Jamaican and Antiguan 
"I moved to Australia when I was seven. At first I thought footy was rugby and I didn't know much about it. I went to a school in Perth where 'AFL' was religiously played at recess and lunchtime. I could've either joined in with all the kids or I would have been that girl on the sidelines with no friends. I just decided to jump in and I had to learn the rules pretty quickly. I picked up the game and loved it straight away. I had played soccer from the day I could run and my family are passionate about the sport, so it was interesting when I told them I liked footy more than soccer. My soccer skills overlapped into footy and I'm sure that helped in my transition into the sport. Considering my background and that I'm a female, I never would have thought that what I'm doing now in the NAB AFL Women's league would be possible. It's surreal."
Greatest football lesson: "Nothing comes easily and you have to work hard to realise your dreams."
Josh Heath
Player and coach, St Mary's Football Club (NTFL); assistant coach Northern Territory Thunder (NEAFL)
Born: South Korea
Background: South Korean
"I was born in South Korea and adopted to Australian parents when I was five months old. I grew up in Lameroo in South Australia and my Australian Dad – Chris – introduced me to footy at a young age. Growing up in the country I played a lot of different sports but I instantly took a liking to footy. I played all the way from mini colts to A-Grade before moving down to school at Sacred Heart College in Adelaide. After finishing school, I moved up to Darwin for work initially and played in the local competition up there, before playing a season for North Launceston in the Tasmanian State League. I then got a call to play for St Mary's in the Northern Territory Football League and I've played there ever since. Being short in stature (163cm) and Asian, as well, I've always had to carry a stigma with me, but football helped me integrate with the community. When I stepped out on the footy field and people saw I could play, it broke down some of those barriers."
Greatest football lesson: "It's not the size of the dog in the fight, but the size of the fight in the dog."
Jake Kolodjashnij
Player, Geelong
Born: Launceston, Australia
Background: Ukranian/Russian
"My Nan is Russian and my Pop was Ukranian. He passed away before I was born so I never got to meet him. They came to Australia to start a better life. I don't know a lot about their history but it's pretty cool to have that background and I'd like to get to both countries one day. Both Kade (twin brother who plays for Gold Coast) and I were introduced to footy through Auskick in Tasmania and all my Mum's family were Hawthorn supporters, so it was quite easy to get involved in footy from an early age. We played a lot of basketball and soccer up until the age of 13, before we decided we wanted to play footy again with school mates. We worked our way up the ranks through the junior football programs and then were lucky enough to get drafted. Nan still lives in 'Tassie' but she loves to get over to watch her two grandsons play."
Greatest football lesson: "Don't take anything for granted and give everything your best shot."
Manisha Kulasinghe
Umpire, AFL Sydney Juniors
Born: Sydney, Australia
Background: Sri Lankan
"You pronounce my last name as 'Cool-a-sing-er', but unfortunately I am not a 'cool singer'. I am a 15-year-old who loves to umpire AFL. An injury to my foot kept me from playing AFL competitively, so I decided to pick up a whistle in the AFL Sydney Juniors competition instead, and I haven't put it down since. After all the training I have received, I now watch footy on TV from a completely new perspective. I watch the umpires now, not so much the players. Nowadays, I have a greater – and different – understanding of this Australian pastime. AFL is not a sport that Sri Lankans typically choose to play or watch – before cricket at least – but I like to test my cultural boundaries while running the boundary. Signing up to the local football club has meant my family and I have become closer with our wider community, and that's really important to all of us."
Greatest football lesson: "Umpiring builds your confidence in playing, watching and understanding the game."
Sarah Loh
Chief executive officer, South Metro Junior Football League
Born: Kuala Lumpur, Malaysia
Background: Chinese
"We came to Melbourne in January, 1977. I had two older brothers and followed them around. Whatever they did, I did. In winter, they started playing football, so I learnt as well. From there, I fell in love with the game. I was in grade one at the time and said to my PE teacher, 'I'd like to join the team'. He just said 'No, girls can't play football'. I still remember the exact spot he told me that. I was absolutely gutted. He said it in front of every teacher in the school. In 1977, there were hardly any Chinese in Melbourne. It was hard with the racism in those days. In year seven, the high school had a female PE teacher. She was brilliant. I asked if we could get a girls' team, so she called all the schools in the region and we created a round-robin competition. I captained that side for five years and I think we won the premiership every year."
Greatest football lesson: "Never give up. Fight for what you believe in."
Dr Joseph Masika
Board member, West Adelaide
Born: Kilimanjaro, Tanzania
Background: Tanzanian
"We entered the football world in 1999 through my son Peter. At primary school, he saw the oval ball and was told he could kick it. When he came back after school, he came with the ball and it was the first time we saw a football. We said, 'What's thisω' so he told us. He joined an under-10s team and that's where we as parents became involved, taking him to the football and being there to participate. Down the track, I became involved as a goal and boundary umpire. Later, he played for West Adelaide under-19s. I like footy because it's not a game we used to know before. Coming here, footy can bring everyone together, regardless of where you come from. Because I love footy, I got the opportunity to serve at the club level as a board member of the West Adelaide Football Club, and I act as a conduit between the multicultural community and the club.
Greatest football lesson: "It breaks boundaries. Everyone involved in footy, whether you're playing or you're a parent, you become part of the society."
Paul Mugambwa
Community engagement officer, West Australian Football Commission; player, Mundijong Centrals (Peel Football League)
Born: Maseru, Lesotho
Background: Ugandan
"I was about one when my family left Lesotho for Canberra, and moved to Perth when I was about 12. Everyone was playing footy at school so I had to get involved. I played lots of sports growing up but footy was the most fun. Early on, I had challenges with my parents – they didn't want me to play. I snuck around behind their back and played, but eventually they came down and watched. Now they're both mad footy fans. Mum once won a tipping competition at work. When you come to a new community, little things like that make a big difference. For work, I look after multicultural and Aboriginal programs, finding ways to engage new communities. With the indigenous programs, we do a lot of work with at-risk youth. Footy's a way out for them. We try to engage them with footy and teach a few life skills along the way."
Greatest football lesson: "Something as simple as a game of footy can provide so many benefits. You make so many friends at a footy club – they become your second family."
Hewago 'Ace' Oea
Player, Gordons Kokofas (PNG) and Broadbeach Cats (Queensland)
Born: Port Moresby, Papua New Guinea
Background: Papua New Guinean
"I was 12 when I learned about AFL. The AFLPNG development team came to my school and we participated in the 'Niukick' program, learning skills to get us ready to play in the local schools' competition. I was attracted to the game because it is fast and skilful. My friends were playing and I wanted to play too. I like tackling and applying pressure, hunting the ball and getting lots of kicks. My favourite player is Michael Walters from Fremantle. Football is fun and always enjoyable. It has also provided an opportunity for me to come to Australia and learn. My big brother Hapeo is also here playing. Football has given both of us a chance to challenge ourselves. It is fun and helps you stay fit and healthy. I would like to stay involved in football when I finish playing, maybe as a mentor or fitness trainer."
Greatest football lesson: "Football has taught me about the importance of working as a team to achieve our goals and having trust in my teammates."
Adam Saad
Player, Gold Coast
Born: Melbourne, Australia
Background: Lebanese
"My parents moved to Melbourne from Lebanon when they were young, and Dad started playing Australian Rules. He hurt his knee and didn't play after that, but from the age of about six we'd go and watch my uncle play in Seymour (country Victoria). So footy's been a part of our family ever since I can remember. I started at Coburg Juniors (in Melbourne's north) and then moved to West Coburg. As a young kid, I just tried having fun and loved playing with my mates. One of my favourite memories in footy was playing with my cousins and going through the year undefeated and winning the premiership – it's still the only premiership I've won. My coaches were always great to me, taught me the basics of the game, and I was lucky to have (Carlton premiership player) Ange Christou as a neighbour. He's given me advice and been a great help to me. I still chat to him whenever I head home. I'm grateful to Gold Coast for giving me a chance in the AFL to continue playing a sport I've loved my whole life."
Greatest football lesson: "Keep your eye on the ball. When I was young I was having trouble marking, so my uncle told me to keep my eye on the ball and watch it go right into my hands. It was simple as that and it changed things for me."
Darcy Vescio
Player and graphic designer, Carlton
Born: Wangaratta, Victoria
Background: Italian and Chinese
"I started playing because my older brother started playing Auskick. When I was younger, I just wanted to do everything he did, and tried to do it better. Dad's side of the family lived in Wangaratta as well and they all loved footy, so I was always around football. Dad pushed a footy into my hands at a young age. I started playing Auskick when I was five and junior footy when I was 11, until I was 14. Then I had to stop playing, just because girls couldn't play with boys past that age. I walked into the Darebin footy club when I came to Melbourne for university when I was 18 and I've been playing ever since. Joining Carlton was amazing. I didn't think I was going to play again after I stopped, so to be here now and to be working at the club and for the first AFLW season to have gone so well is pretty mind-blowing."
Greatest football lesson: "If you love something, just keep doing it."
Dayne Zorko
Brisbane Lions player
Born: Brisbane, Australia
Background: Slovenian
"Dad moved from what was then known as Yugoslavia to Melbourne when he was 10 and got Australian Rules into his blood. He was a St Kilda supporter. When my brother was old enough to play sport, there was only one choice – our family loved it. He was in the under-10s and I wasn't old enough to play yet, but I didn't want to be left at home, so I went along and got to be the mascot for a year and ran out in front of my brother's team. I played at Surfers Paradise from the age of five until the under-16s and I've still got three mates from those early days I speak to every week. The close friendships are some of the best things I've got from footy. I was a bricklayer with dad for five years until I got drafted at the age of 22 – getting up at 5.30 every morning and working in the Queensland sun really showed me what hard work was. I feel like it gave me a greater appreciation for how lucky I am to be paid to play a game I love."
Greatest football lesson: "It's not the size of the dog in the fight, it's the size of the fight in the dog."
The original story can be found at this link: http://www.afl.com.au/news/2017-07-29/my-multicultural-footy-story
Comments (0)
---
World Footy News
http://www.worldfootynews.com/article.php/20170729200703841