2017 Toyota AFL Multicultural Round
Friday, July 28 2017 @ 07:54 pm ACST
Contributed by: Wesley Hull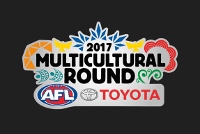 This weekend sees the multicultural roots of our national game recognised and honoured with a round of matches, both at the highest level of the game and at grassroots level, played as a mark of respect to those people of multicultural backgrounds and their contributions to our game.

The timing of the round is ideal, occurring a week before nations from across the world send the national Australian Rules football teams to Melbourne for the 2017 International Cup (IC17).

The AFL's positive community message states that:

"AFL is a game for everyone, no matter who you are or where you're from. Australian Football has the extraordinary power to bring people together regardless of background. Toyota AFL Multicultural Round gives us the opportunity to celebrate the diverse cultures that make up our amazing game. Everything's possible when we unite through the love of the game."
"We highlight the contribution multicultural communities have made to the game's history and welcome new communities to embrace Australia's game in the future. Many cultures, one game."

Our game has been blessed with so many players of multicultural backgrounds who have taken the game to new heights and opened the game up to new communities of people who have since embraced the game.

We delight in the memories of great names such as Alex Jesaulenko, the Silvagni name (Sergio, Stephen and Jack over three generations), Peter Daicos and so many more.

A comprehensive list of past players of multicultural backgrounds can be see at the AFL's website following this link: http://www.aflcommunityclub.com.au/in...php?id=640

The current players of notable diverse backgrounds includes Nic Natanui (Fiji), Majak Daw (Sudan), Aliir Alir (Sudan), Conor McKenna (Ireland), Pearce Hanley (Ireland), Andrew McGrath (Canada), Jason Johannisen (South Africa), Lin Jong (Taiwan & East Timor), Ivan Maric (Croatia), Adam Saad (Lebanon), David Zaharakis (Greece) and many more.

A full list of current players can be found at: http://www.aflcommunityclub.com.au/index.php?id=27

The round will again feature multicultural themed events at many AFL matches as well as themed balls at AFL matches this weekend, multicultural commentators for many media outlets at matches and other ways to promote the weekend's events. For a full overview of the round, visit the AFL's own website at: http://www.afl.com.au/news/event-news...turalround

One interesting way to highlight the changing face of Australian society over the years as we have welcomed and embraced the contribution of a host of diverse backgrounds is surnames.

In 1938, Essendon reserves posted their team in The Argus newspaper prior to the weekend's round of matches. The team sheet read: Coates, Drummond, Dibbs, Munro, Roberts, Ellis, McGain, Wallace, McDermid, Goulden, Slater, Buckley, Patterson, Merrick, McLay, Brodie, Welch, Allister, Smith, Beckett, Cooley, White. The list is a predominantly Anglo-Celtic/Anglo-Saxon collection of names largely from the countries of the United Kingdom.

Fast forward to 2015 and the Masala Football Club in suburban Melbourne – Noble Park, to be more exact – listed their team. A small sample of their list shows:

Alex Adamopoulos Masala Football Club (Greek)
Bradley Parker Masala Football Club (England)
David Crkvenac Masala Football Club (Croatian)
David Inge Iii Masala (PNG)
Declan Lee Masala Football Club (Ireland)
Dylan Shanks Masala (England)
Feda Alidad Masala Football Club (Turkey)
Furkan Erkal Masala Football Club (Pakistan)
Jarred Aoun Masala Football Club (Lebanon)

In just that small, random comparison it is clear that the demographics of Australian society have changed markedly in almost 80 years. This change is strongly reflected in the comparison of those two team lists.

The difference shown within those lists is exactly the purpose of the AFL Toyota Multicultural Round – to highlight, recognise and celebrate the diversity that makes up our game as the societal makeup of our nation continues to change in the most wonderful, united way.



Comments (0)
---
World Footy News
http://www.worldfootynews.com/article.php/20170728195437224