IC17 Preview: Japan Samurai
Monday, July 31 2017 @ 03:39 pm ACST
Contributed by: Cam Homes
Views: 2,023


Japan and Australian Football
Japan has the oldest non-English speaking league in the world that kicked off in 1987 following an exhibition match in Tokyo between Essendon and Hawthorn. The oldest club is Senshu Power, a university based team that was one of the foundation teams of Japanese football along with Keio and Waseda universities that had scraped together teams to play the curtain raiser to the exhibition match.
The Samurai, Japan's national team has a long history, having played "internationals" since the late 1990's participating in the Arafura Games in Darwin, Australia several times. Japan has contested all International Cups, their best placing being eighth in IC08, although IC14 was probably their most successful winning three from five matches, enabling them to rise from 19th to 16th in the WFN World Rankings.
Japan Samurai IC17 Squad.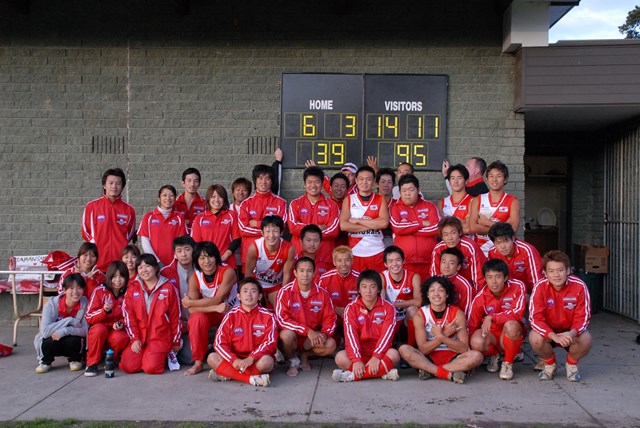 The Samurai IC17 squad was announced on 20th June and has an exciting blend of youth and experience. Once again IC veteran Michito Sakaki (I believe this is his 6th IC) graces the squad with his experience and talent, which could well make him the only player in international footy to play in all the International Cups. Other IC veterans include Hisayoshi Oura, Toshiki Matsuhashi and Yuki Akita (4th IC), Yuosuke Kuno (suiting up for his 5th IC), Yuta Toyshima (played IC14), Jumpei Ito, and Ryosuke Sato (each 2nd IC).
Amongst the IC debutantes there are some more players who can claim international experience, all having played for the Asia Lions against China in Shanghai in the curtain closer match following the Port Adelaide v Gold coast match namely Shota Horijuchi, Kyo Nakagawa, Yuji Yamamoto and Yudai Yamaji along with Michito Sakaki and Yuske Kuno. New comers Riku Tokutake, Junpei Fujita and Shoki Mukodaka (Box Hill scholarship 2015) also toured Melbourne with the University Warriors in August 2016 along with Ito, Nakagawa and Yamaji.
The full Squad is listed below,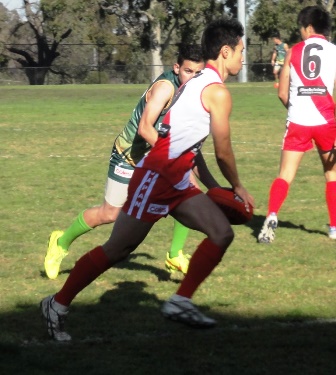 Hisayoshi Oura-Tokyo Bay Suns Kyo Nakagawa-Senshu Powers
Toshiki Matsuhashi-Tokyo Bay Suns Hirito Murayama-Senshu Powers
Kohei Kageyama-Tokyo Bay Suns Yuji Yamamoto-Tokyo Goannas
Hiroo Kuroda-Tokyo Bays Suns Yusoke Kuno-Shonan Poseidons
Michito Sakaki-R246 Lions Ryosuke Sato- Shonan Poseidons
Yuta Toyshima-R246 Lions Satsuki Shimizu-Komozawa Magpies
Tatsuya Nasu-R246 Lions Yuki Tosu-Komozawa Magpies
Jumpei Ito-Eastern Hawks Junpei Fujita-Komozawa Magpies
Kento Takahashi-Senshu Powers Tasei Matsumura- Komozawa Magpies
Satoru Udagawa-Senshu Powers Yudai Yamaji- Komozawa Magpies
Shota Horijuchi-Senshu Powers Yuki Akita- North Gambier, South Australia
Sohei Tada-Senshu Powers Riku Tokutake-Senshu Powers
Players to watch
Michito Sakaki (c) Veteran midfielder with blistering speed and great skill. His experience and leadership in the team will be vital.
Yuki Akita - Been playing since came to South Australia to Uni in 2005, this is his fourth International Cup. Currently playing with North Gambier in South Australia. Experienced player under Australian conditions and one of the few used to large Australian grounds. Dangerous in front of goal.
The Samurai at IC17
Japan has drawn Pool B in Division 2 at this year's International Cup along with Germany, India and Pakistan.
The Samurai are currently Ranked 16th (37.17 Rating Points) and come up against India WR 21st (23.01) in Round 1. Japan has the wood over India 1-0 with the win at IC14 so should expect to win this one also. Tip: Japan 1-0
Round 2 has Japan up against Pakistan (5th highest provisional ranking at 32.35 points) having also defeated the Shaheens at IC14. Pakistan is again a bit of a mystery this time as we can't really know whether the Pakistan based players will improve or detract from their performance this year. Tip: Japan 2-0
The third match for Japan in the Pools matches sees them up against IC debutantes Germany WR 15th (37.44). The World Rankings suggest that these teams are very evenly matched separated by only 0.27 rating points. Germany has an International match record of 7-0-13 playing only against other European nations to date, whilst Japan's international record stands at 8-0-21 but have played against many more different nations. Tip: Japan 3-0