Roughead's Bulldogs Enjoy Cairns Home
Sunday, July 23 2017 @ 09:03 pm ACST
Contributed by: Wesley Hull
Views: 576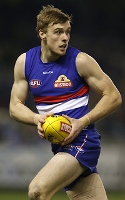 Jordan Roughead, Liam Picken and Lachie Hunter were three of the younger and less experienced players at the Western Bulldogs back in 2014. On their first visit to Cairns for the annual match against the Gold Coast Suns at Cazalys Stadium, the three were sent down to Gordonvale – 25 kilometres south of Cairns – to meet with the kids at the Pyramid Power club. After a kicking session and a frenetic handpassing match with the locals, the three returned to their hotels.
Returning in 2017 the three are now premiership players and three of the first picked in a strong, talented Bulldogs team. Today in Cairns they all helped the Bulldogs to down the Gold Coast Suns by 54 points and keep their finals hopes on track.
Yesterday, Jordan opened up about his personal love of Cairns and that of his Western Bulldogs team mates.
"We love being up in Cairns as a playing group and as a club."
"We're in our fourth year up here now – fourth game – [and] we've had some good results in the past and hopefully we can get another one tomorrow [against the Gold Coast Suns]."
"We got up here yesterday afternoon so yesterday was about acclimatising and getting our legs under us after the flight. But today we have had a light run for a bit of training and a bit of a super clinic [for the kids] going on behind us."
[Editorial Footnote: Liam Picken was one of the first players out onto Cazalys Stadium for training and after the session was done he stayed on the field alone for another 10 minutes practising his goal kicking. Today he kicked six goals for the Bulldogs in their win against the Suns – setting a new goal kicking record for a single player at Cazalys. Many are surprised at his big haul – those who watched him at training saw it coming.]
Jordan continued about the clinic, saying "Not quite sure how many kids we've got but it's great to see a lot of local fans here and a lot have made the trip up from Melbourne as well so there's some good numbers [of real or potential Bulldogs fans] around. It's great for the young kids and also the fans here in the stands to get a first-hand look at AFL football"
When asked how important the Bulldogs' presence in Cairns is he stated that "for a lot of the kids, they don't get a lot of chances to meet some of their heroes. So it's great to get the game out there and hopefully over the years we'll find a few young players who have started here [in Cairns] and make their way to the big league as well." Jordan was alluding to both Jarrod Harbrow and Jack Bowes who are both from Cairns and played in the match for the Gold Coast Suns.
The future of AFL matches in Cairns will now be a huge talking point. The crowd of 9364 people was up significantly on last year – quite possibly due to the city hosting a reigning premier – and this would be a huge boost to the chances of Cairns getting another match in 2018.
When asked whether he would be pleased to see the Western Bulldogs return to Cairns he replied, "[it is] definitely something I'd like to see continue. Obviously the club will make a decision on it [in due course] but I know as a playing group we really enjoy Cairns".
And Cairns really enjoys the Western Bulldogs, the Gold Coast Suns and highest level AFL football coming to town and we desperately want to see that continue for as long as possible.
Ten years from now, Jordan Roughead, Liam Picken and Lachie Hunter won't be visiting local clubs in Cairns and joining in handpassing matches. But the local dream would be the next wave of Bulldogs, and the wave after that will be and that would be wonderful for footy in Cairns.
Picture (below): Jordan Roughead, Liam Picken and Lachie Hunter with some Pyramid Power kids back in 2014