Being A Bulldog
Friday, July 21 2017 @ 02:42 pm ACST
Contributed by: Wesley Hull
Views: 728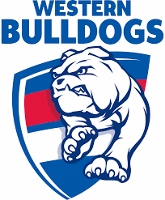 Jen is a long way from home. She hails from Melbourne's northern suburbs and has been a life-long Western Bulldogs supporter – a daughter of the "Scray" and an avid fan since their days at the Whitten Oval (or Western Oval as it was called then) and they were known as Footscray.
Today she is sitting in the Cairns warmth – a tropical 25 degrees – watching her Western Bulldogs players train in the lead-up to tomorrows clash at Cazalys Stadium against the Gold Coast Suns. The temperature I a far cry from the 6 degrees which greeted Melbourne this morning. "That's the great thing about Cairns," Jen says. "We can sit here watching the footy in t-shirts, it's so beautiful here." After the game is done tomorrow she plans to possibly visit Green Island. She travelled to Kuranda on the scenic railway last year when she was in Cairns for the previous Bulldogs match in 2016.
But Jen adds that the flight itself was a highlight. "When we got on the plane in Melbourne there were people everywhere in their Western Bulldogs colours. We were all going to Cairns together. It was fantastic."
Allan is from Ascot Vale – a suburb probably midway geographically between Footscray and Essendon - but he is a staunch Bulldog and always has been. He also commented on the Cairns weather. "Lucky bastards!" he said, referring to the good folk of the north who get to live, work and play in these temperatures all the time. He even claims that it is "too hot" compared to home, but admits that a journey north to watch his beloved Bulldogs is aided by the fact that "the weather is certainly an attraction" in choosing to travel over 3000 kilometres to watch his team play.
But Allan also makes the point that many Bulldogs supporters – a relatively small but rabidly loyal supporter base – travel to Cairns and elsewhere out of love of club. He believes the reason that Bulldogs fans are unique is that deep down they still hold the virtues of the old club football days in Footscray when most supporters were "close to each other" as friends united by the same love of team.
Don, from beautiful Woodend, out past Mount Macedon on the way to Bendigo, thinks that the club has grown further in closeness since their coach, Luke Beveridge, arrived and changed the course of the club's history. This is shown by the enthusiastic fans at Cazalys Stadium as they watch the Bulldogs train and then work with local kids on the field as part of a clinic.
The club embraces community – in Melbourne or Cairns – and Luke Beveridge leads the way. Don adds that, "Luke expresses the need for the club to mix with communities. To get involved. Some of these boys [names mentioned] would not do that a few years ago, but now they get out there with the fans and supporters and Luke leads the way. He is so approachable."
Harvey and Hayley are from Mornington, south of Melbourne. Harvey is one of the leaders of the Western Bulldogs Cheer Squad. The family makes the journey in the lead-up to games from Mornington to the Footscray North Primary School where the run-through banners are made each week by the cheer squad. Harvey says there is a definite "family feel" to these experiences. It is a long drive (a couple of hours each way with traffic) but completely worth it. It can be a logistical nightmare and is often hard work, but working with fellow cheer squad members and fans makes it a family effort.
Harvey puts this down also to Luke Beveridge in part by seeing him as a "good, honest bloke and a good coach" who espouses the Bulldog ethos of community.
Provided the Western Bulldogs and VFL club Footscray's games don't clash, they also make the journey to wherever the VFL team is playing. The Dogs will look to make Ballarat their base and the Footscray team often plays there. Harvey says "it is a long way – three hours from home – but we love it, supporting our boys. The same applies to their trip to Cairns to cheer the team on and get the banner out onto the field pre-game. Wherever the Bulldogs go, the family (supporters) follow.
When the Western Bulldogs won the 2016 AFL Premiership, there was a big spike in membership and supporter numbers which has dropped again since the start of a new season. But in Cairns, if anything, that number is still on the increase.
Harvey is thrilled that Cairns is now providing a new supporter base for the Bulldogs. It is the first time Cairns has ever hosted a reigning premiership team and since last year's flag many people in Cairns (and elsewhere) have adopted the Western Bulldogs as their team. But coming to Cairns, Harvey and Hayley (originally from Wales and still with the accent) feel they are linking up with fellow fans from thousands of kilometres to the north.
Harvey and Hayley have also sponsored one of the Western Bulldogs' AFLW players, Rebecca Neaves, who gratefully comes over regularly to "have a kick" with their daughter. And so the Bulldogs' family grows.
So what of the Bulldogs in Cairns and beyond this year. Most hold out hope that the Western Bulldogs will make it four wins from four visits to Cairns. But longer term is summed up by Jen and Allan. "I think we will ride out 2017 and come back stronger in 2018 and look for longer term success." Maybe that's just a residual piece of acceptance that came with 62 flagless years. Many would see another premiership in 2017, starting with a win again in Cairns tomorrow.
It's great being a Bulldog in Cairns.
For many, it's just great to be a Bulldog.