IC17 Preview: Great Britain Bulldogs
Monday, July 24 2017 @ 11:40 pm ACST
Contributed by: Laura Turner
Views: 3,118

Men's Footy in Great Britain
The game has seen a steady increase in activity since the last tournament and expanded markedly in central England and Scotland. The quality of the game has increased, with more youngsters getting involved and staying with the game, many of whom travel into London to get increased exposure to the full 18's game, as well as the 9's they play regularly with their regional clubs.
The number of British eligible players across clubs has improved dramatically with numerous clubs now having strength in depth of their "rest of world" players, which local league rules stipulate must be in match day squads. The mix of high-level Australian players and talented British rookies has created one of the strongest leagues outside of Australia and bought those rookies up to speed and a good level of play quickly.
The English, Welsh and Scottish 9-a-side representative teams have continued to be some of the strongest in Europe and provide a natural pipeline of players to the GB squads. Many of those regional 9-a-side players have bought a sense of flair and skill not normally associated with Bulldog teams of the past.

Competition for places within the GB set up has increased year on year with many of the AFL Europe Championship squad not making the final cut for International Cup which further shows the strength in depth now available to the Bulldog coaching team.
The Country and Australian Football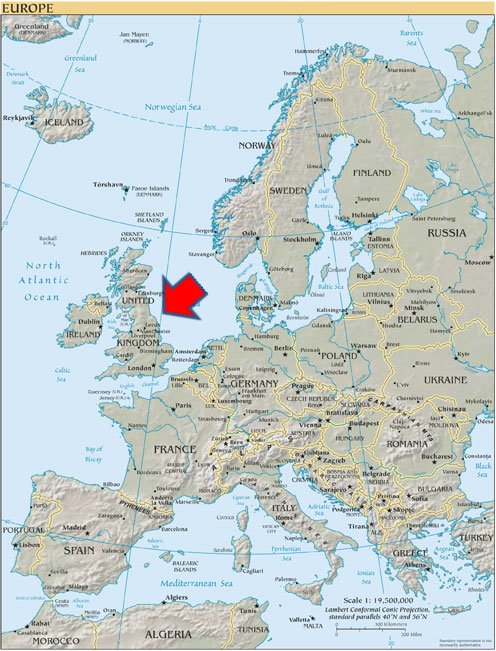 The term "Great Britain" often extends to include surrounding islands that form part of England, Scotland, and Wales, and is also sometimes loosely applied to the UK as a whole. It has a population of 60.8 million and an area of 209,331 km2 (80,823 sq mi).
Australian Football has been played on the island since the first recorded game on the 14th April 1888 when the Edinburgh Australians from Edinburgh University played against the University of London in Balham. The game has been played across the country since and there has been an annual Varsity match between Cambridge and Oxford Universities since 1923 making it the longest running fixture outside of Australia.
In 1989 the British Australian rules football league (BARFL) was created to provide serious structure for league competition in the British Isles. There have been a series of itterations of the governing body since including AFL Britain and now AFL England, AFL Scotland and the Welsh Australian rules football league. The three governing bodies take care of their local leagues (AFL London, SARFL, AFLCNE in England, WARFL in Wales and AFL Scotland in Scotland) and their 9-a-side national teams but come together for the traditional version of the game to produce the Great Britain teams.

Many consider AFL London one of the strongest competitions outside of Australia due to the influx of Australian nationals on London. Players who have competed at State league or Elite Youth levels are often found roaming the paddocks across London during the summer seasons while the like of Lauren Spark (Western Bulldogs/Wimbledon Hawks), Lauren Tesoriero (Collingwood Magpies/Wandsworth Demons) and Kate Shierlaw (Carlton Blues/Wimbledon Hawks) have taken the AFL London Women's league by storm.
The Team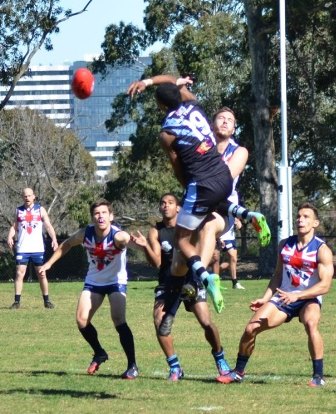 Will Worthington (C)
Luke Booth (VC)
Sean Walton (VC)
Ross Ashman
Christopher Britton
Roy Brannigan
Marc Cashman
Andrew Cochran
Jack Coughlan
Adam Coxsell
Ross Denton
George Dibble
Ryan Floyd
David Hastie
Jason Hill
Douglas Houston
Myles Hudson
Mark Ireland
Seyonne Kadnapillai
Alex Markham
Luke Matias
Dominic Mitchell
Luke Murchie
Alexander Overton
Owain Ryland
Michael Sharp
James Talbot
Andrew Walkden
Alexander Watson
Coaching Staff
Dean Thomas (Head Coach)
Rhys Long (Assistant Coach)
Scott Rymer (Assistant Coach)
Hilary Wilson (Physio)
Millie Morgan (Sports Rehab)
Jason Hill (Team Manager)
Team Information
The team is lead by Captain Will Worthington (Onkaparinga Valley) along with his two Vice Captains Luke Booth (Huddersfield Rams) and former IC14 captain Sean Walton (Caulfield Bears) under the coaching guidance of Dean Thomas, Rhys Long and Scott Rymer. With only 8 of the 30 experiencing IC football before this is a very new look Bulldogs side.
Strengths and Weaknesses
The Bulldogs have historically been a tough footballing side and the Bulldogs have always played a physical game and uncompromising tackling has become a trademark. Building on this, the management team, has looked to add a mix of experience and youthful flair to a new looking Bulldogs side.
Inexperience at IC level could be considered the biggest weakness of this Bulldogs side. The Bulldogs will look to build on the AFL Europe Championship win in 2016 to cause a few upsets along the way in what locals are calling the most "well-rounded" Bulldogs team to enter an IC.
Players to watch
Alex Watson (Wandsworth Demons) – Alex is widely considered one of the most consistent and impressive GB players in a highly competitive AFL London Premiership competition. A skilled and aggressive ruckman who's around the ground pressure and fitness will be crucial to the Bulldogs success.
Jack Coughlan (North London Lions) – Jack was handed his GB debut in 2016 at the AFL Europe Championships and within 7 appearances he has become the nation's highest ever goal kicker with 17 goals. A strong overhead mark, quick first step and surprising on ground ball skills make this forward a defenders nightmare. Has the ability to single-handedly win a game for the Bulldogs.
Luke Matias (Caulfield Bears) - Luke is an International Cup veteran with many years of football in Australia as well his experience both in the game and in international competition will be of huge value to this squad with so many new comers to the tournament.
Form Guide

Traditionally the Bulldogs have been a "middle of the pack" division 1 team at International Cup competitions finishing 6th (2002), 6th (2005), 9th (2008), 7th (2011) and 9th (2014) and will be looking to improve this going into 2017.
Since Dean Thomas' appointment as GB Bulldogs Head Coach the Bulldogs have a 5-0-2 record with wins coming against Germany, Sweden, Ireland, Holland and Canada and both loses coming against Ireland in closely contested games. The AFL Europe Championship final win against Ireland, where the Bulldogs ran out 7.9.51 to 4.5.29 winners, was the first time that the GB representative side had taken down their rivals in competitive tournament footy. This has given the Bulldog's a platform to continue to build on which they did win a comprehensive 19.15.109 to 0.0.0 win against a Canadian development squad (The North Stars) as part of their build up to IC17.
Bottom Line
The Great Britain Bulldogs are by no stretch of the imagination the "new kids on the block" having competed in every iteration of the International Cup to date but the baggage of previous unsuccessful International Cups seems to have been removed with the new coaching team as evidenced at AFL Europe Championships 2016. A win there has shown that the Bulldogs, on their day, can mix it with some of the traditional giants in International AFL.
A strong squad, with what looks like the right mix of fresh faced GB based and experienced Australia based players, will give the Bulldogs hope of a top 4 finish which would be considered a big step up since 2014. Is the big dance at the MCG too much to hope for? An injury free tournament, could see the Bulldogs be this years surprise package. Their draw sees them meet South Africa and Ireland which would need their best performances worthy of a top four finish, and Canada and Fiji that will be hard matches but the Bulldogs know they could win if everything goes their way and they play disciplined footy.
GREAT BRITAIN Match schedule Rounds 1-4 with BST timezones for matches.
Sun 6/8 vs South Africa (McAlister Oval) 9:30am/12:30am(BST)
Wed 9/8 vs Canada (St Francis Xavier,Officer) 12:30pm/3:30am(BST)
Sat 12/8 vs Ireland (Caulfield Park) 12pm/3am(BST)
Tues 15/8 vs Fiji (McAlister Oval) 11:15am/2:15am(BST)