IC17 Preview: China
Wednesday, July 19 2017 @ 11:00 am ACST
Contributed by: Andrew Sawitsch
Views: 2,744

China returns for their fourth consecutive International Cup with a mix of youth and experience that reflects their progress across the past decade of the Chinese national team's existence. With several players with Australian experience and momentum building amongst a core group of players who've recently played competitive international matches, China are a chance to be a major competitor in the Men's Division 2 of this year's International Cup.

The Country and Australian Football

The People's Republic of China (PRC) is the most populous state in the world, with over 1.3 billion citizens. The PRC exercises jurisdiction over 22 provinces, five autonomous regions, four directly administered municipalities (Tianjin, Shanghai, Chongqing and the capital city- Beijing), as well as two special administrative regions (SARs) – Hong Kong and Macau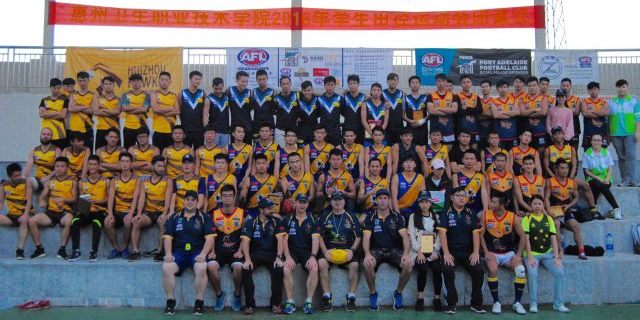 Pictured Right GuangDong AFL teams December 2016 (Credit: Zhang Hao, AFL China / Guangzhou Scorpions) Link (chi.) pictures and names of Guangzhou reps
An AFL development officer has been based in China almost continuously since 2006, with recent local development being largely based around schools and universities in Guangdong province (mainly through the Guangdong AFL & South China AFL) The past five years has also seen further consolidation of clubs in the major cities and the expansion of AFL Asia has seen more opportunities for competitive matches across the region. The success and impressive crowd turnout of the Port Adelaide v Gold Coast match in Shanghai in May further exposed the potential for expanding the game into China, it seems likely an AFL match will be played annually in Shanghai for the next three years, providing ongoing opportunities to leverage local development.

Port Adelaide Football Club have once again come through as a host and major sponsor of Team China, the boys will be visiting Adelaide before travelling to Melbourne for tournament matches.

The Team

This is without doubt China's strongest ever team. The nucleus of the team are university students based in Guangzhou, who have been getting regular training and match exposure in the GDAFL & SCAFL respectively, these players have also had recent national representation and tour experience in Ho Chi Minh City, Vietnam (2017 All Asia Cup) & Shanghai (AFL Match 'Curtain Closer' v Asian Lions), this has raised the standard considerably; together with at least 8 Australian based players (including Port Adelaide recruit Chen Shaoliang & Chinese footy Stalwart Jiaming 'Jamie' Pi) it makes for a balanced team on paper.

Coach will be Bill Poly, who previously coached many of the players in Guangzhou. Zhang Hao (an important leader on field and off field) will be returning for his 4th tournament and will be co-captain along with Chen Shao Liang.
The team will be fit and will aim to exploit this against their opposition, with an average height of 177cm, they will be aiming to keep possession of the ball and utilise their pace.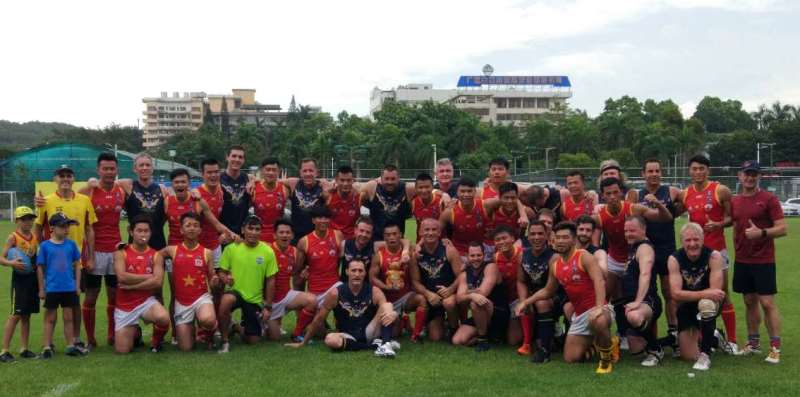 Pictured Above: Australian Masters Team v China in Guangzhou, Sunday 16th July, The Australian Masters are currently completing a 10 day tour of China and India (Credit: Zhang Hao, AFL China / Guangzhou Scorpions)
Players to Watch
Chen Shaoliang returns from injury to be a mobile target for the team, Deng Xiao Yu and Liu Zhao Rui will be important to the team structure. Yu Chao Xiang & Jiaming Pi are ball getters and crucial link up players. Chen Shu Kai will be playing as a ruckman and will be prominent as well.

Bottom Line
For the pool matches, China face Croatia, Indonesia & Sri Lanka, their performance first up against Croatia is an important one, it's likely to be a physically challenging match, getting a win unscathed could set them up for a high placing. China will take confidence from the fact that they narrowly lost to Indonesia in the All Asia Cup in Ho Chi Minh City last year and Sri Lanka are tournament debutants so China will think of these as winnable games. The match against Indonesia in Digger's Rest as part of the Community Round, is shaping as a really close and high pressure contest, potentially one of the highlights of the tournament.

Squad list
1

ZHANG

HAO ©

Guangzhou Scorpions

2

LIN

WENLIANG

GZ SCORPIONS

3

WANG

RONGFENG

GZ SCORPIONS

5

DING

GUANQUN

Old Ignatians Football Club

6

PI

JIAMING

Keysborough Football Netball Club

7

YU

ENDA

DUBAI DINGOS

8

QIU

XIAOSHAN

GZ SCORPIONS

9

LIN

DIANYU

HUIZHOU HAWKS

10

HUANG

JIANGLONG

GZ SCORPIONS

11

XIE

WEIYAN

GZ SCORPIONS

12

NIE

SENHUA

GZ SCORPIONS

13

ZHUANG

HUANGANG

GZ SCORPIONS

15

DENG

XIAOYU

GZ SCORPIONS

16

CHEN

SHAOLIANG ©

Port Adelaide

17

WU

XINGZHEN

GZ SCORPIONS

18

YU

CHAOXIANG

GZ SCORPIONS

19

ZHENG

JIANXING

GZ SCORPIONS

20

CHEN

SHU KAI (VC)

GZ SCORPIONS

21

CHEN

ZIBANG

GZ SCORPIONS

22

LIU

ZHAORUI

IMMANUEL COLLEGE

23

LIN

HONGHUI

DONGGUAN BLUES

24

CHEN

ZHUSHEN

SHANGHAI

TIGERS

25

CHEN

ZIWEI

GZ SCORPIONS

26

CHEN

JIANGTIAN

GZ SCORPIONS

27

YANG

MING

La Trobe University Amateur Football Club

28

CHEN

LONG

Wandella Football Club

29

YANG

YANG

Springvale District Football Club

30

QIU

HAO

Springvale District Football Club

31

CHUENG

BRIAN

PHOS Camden Football Club *

32

WEI

DEAN

Mt Barker Barkaroos *
*Participation TBC