McGrath Is More Canadian Than Many Realise
Sunday, July 16 2017 @ 09:05 pm ACST
Contributed by: Wesley Hull
Views: 1,023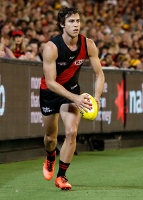 The International Cup for 2017 (IC17) is just around the corner and with it will come the finest players from nations across the globe competing to be the best nation outside of Australia. Canada has long been one of the most consistent nations at the event, and one of their greatest AFL exports, Mike Pyke, was even a part of the Sydney Swans 2012 premiership team – and has the premiership medal to prove it. He also played 110 games for the Swans at the highest level of AFL football.
Andrew McGrath wasn't recruited from Canada, unlike Pyke. Yet he is Canadian. His junior football was here in Australia and was recruited to the Essendon club from the TAC Cup team, the Sandringham Dragons.
But his impact has been remarkable for a young man who has only just turned 19. In his 15 games for Essendon to date he has averaged just under 20 disposals per game, three tackles per game and four marks. But it has been the manner in which he has achieved this, with an uncanny sense of timing and control, which has already drawn comparisons to past Essendon and Port Adelaide great, and 1993 Brownlow Medallist Gavin Wanganeen.
 Hamish McLachlan's article in the Herald Sun newspaper has seen an in depth interview with Essendon's #1 draft pick from 2016 – Andrew McGrath. Whilst much was made at the time of McGrath's Canadian background, many have been largely unaware of just how Canadian he is and how lucky Essendon were to recruit him – and not just beating other teams to select him. 
Following is an extract from the article. To read the article in full, go to: http://www.heraldsun.com.au/news/hamish-mclachlan-chats-to-andrew-mcgrath-on-the-pressure-of-being-the-afls-number-1-draft-pick/news-story/0fe406b2cdf1518153fabbb80cef580f 
 ANDREW McGrath seems like the type of guy you'd be delighted your daughter married, and having two girls of my own, I know that's saying something!
Mature, thoughtful, clever, gifted, humble and modest. School captain, vice-captain of footy, captain of athletics and a national champion.
Oh, and he was also a choir boy.
He went number one pick in the 2016 AFL Draft, and in his first year of football, he has met every expectation, and then some.
We spoke about his early years in Canada, how you actually pronounce his last name, the choice between football and athletics, reinvigorating the school choir, the pressure of being drafted at one, the Bombers chances of winning the last game of the season, and Lord of the Dance.
HM: You're the first number one draft pick from Canada. I dare say, probably the last.
AM: Maybe, well, probably. It's pretty unlikely to happen again when you say it like that, but the game's growing. It is exciting, and it's a pretty big honour to be the first one. Hopefully I can inspire another footballer in Canada to do the same thing. I think I'll be the only one for a while though!
HM: Were you actually an Australian citizen when you were draftedω
AM: No, I wasn't, I think everyone assumed I was though. I'm now in the process of becoming a dual citizen.
HM: Was there any issue with getting drafted as a Canadianω
AM: No, none at all luckily. My family and I spoke with my managers, Robbie and Paul, and they scoped it out and said it was all good.
HM: Some house keeping. "Mc-Gra- r" is how I thought it was pronounced. Wrongω
AM: To my family back home, it would be wrong. They pronounce it "Mc-Gra- th" but it's all dependant on the accent you say it with. If you say it with my parents' accent, the Canadian accent, it's 100% Mc-Gra- th, but here in Australia we say Mc-Gra- r.
HM: So how do you introduce yourselfω
AM: Usually, with Mc-Gra- r. The Australian way.
Andrew McGrath with his Sandringham Dragons teammates on draft night.
HM: So if I'm commentating you, what would you ratherω
AM: (laughs)…..This is great….I get options…..umm, stay with "Mc-Gra- r", the Australian way. I speak with an Australian accent now, so I've adopted it as my last name! If I'm back home and speaking in my Canadian accent, I'll say it the Canadian way.
HM: Do you bring out a Canadian accent when you go homeω
AM: I do actually. A few people at the club are a bit surprised that it's stuck, but my brother, my sister and I can still do our Canadian accents, as well as our Australian accents. We flick the switch when we're talking to our parents, and when we're talking to our mates. They find that pretty interesting.
During the International Cup many players will be showcased, and it is always possible for an international player to make their way to an AFL team list. Canada are already proud of Mike Pyke and will also embrace Andrew McGrath…and maybe they will have another future star on their list waiting to show their wares in Melbourne next month.
Picture Courtesy: Zimbio